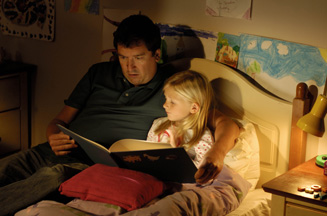 The campaign, which will run across TV, press, outdoor and digital, is the first from the department. It was created by Abbott Mead Vickers BBDO.
The TV ad, which will premiere tonight during Coronation Street on ITV1, is a direct response to government research showing that more than half the population think climate change will have no effect on them.
It features a father telling his daughter the story of 'a very, very strange' world with 'horrible consequences' for today's children as part of the current Act on CO2 campaign to encourage people to make a difference by changing their behaviour. The story describes British towns being flooded, with people and animals dying.
DECC's research has revealed that more than 50% of people do not believe climate change will affect them and only about one in five (18%) think it will take effect during their children's lifetimes.
The results showed that a key motivator for people to take action on climate change is the understanding that it will affect the next generation. Three-quarters of respondents (74%) said they would make changes to their lifestyle now if they knew climate change was going to affect their children.
Energy and Climate Change Minister Joan Ruddock said: 'The results show that people don't realise that climate change is already under way and could have very severe consequences for their children's lives. It also suggests people still aren't sure what causes climate change.
'Our new Act on CO2 adverts show how serious it is and that we can all do something about it,' she added.