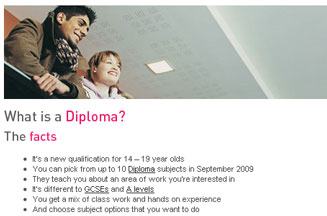 A radio spot and national press ad promoted the Diploma, for 14- to 19-year-olds, as being 'accepted by all universities'.
However, it was ruled by the Advertising Standards Authority (ASA) that Cambridge University did not accept all but one of the Diplomas offered.
The qualifications were launched in September 2008. The ASA noted Cambridge accepted only the Diploma in Engineering, provided it was taken alongside A-Level Physics.
The two complaints were from listeners who challenged whether the claim 'accepted by all universities' and the wording 'can get you into any university' were misleading, because they understood Cambridge University only accepted Diplomas in one subject.