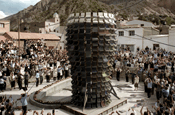 The downturn has strengthened the hand of ministers arguing against demands by campaign groups and MPs for restrictions on junk-food and alcohol ads.

Although both issues are officially still "under review", calls look certain to be rejected.

One minister said: "We have to look at the impact of every decision we make in a new light. We don't want to make a difficult economic situation even worse.

"We have to use every weapon at our disposal, and we need to think very carefully before taking spending out of the economy."

A 9pm junk-food commercials watershed would cost the ad and food industries an estimated £200 million, while the same move for alcohol would deprive the ad and drinks industries of £100 million.

The Government's new thinking has been relayed to advertising industry leaders ahead of next Monday's Pre-Budget Report, when the Chancellor, Alistair Darling, will boost public spending on building projects. The industry has welcomed its stance.

In contrast, the Tory leader, David Cameron, on Tuesday renewed his call for deep cuts in the Government's own adspend to raise money to freeze council tax bills for two years.

Labour said the Tories could not shave £230 million off the advertising budget as they claimed.

The Tories pointed to a Commons written reply showing that COI's total budget has risen from £125.9 million in 1996-97 to £337.5 million in 2006-07.