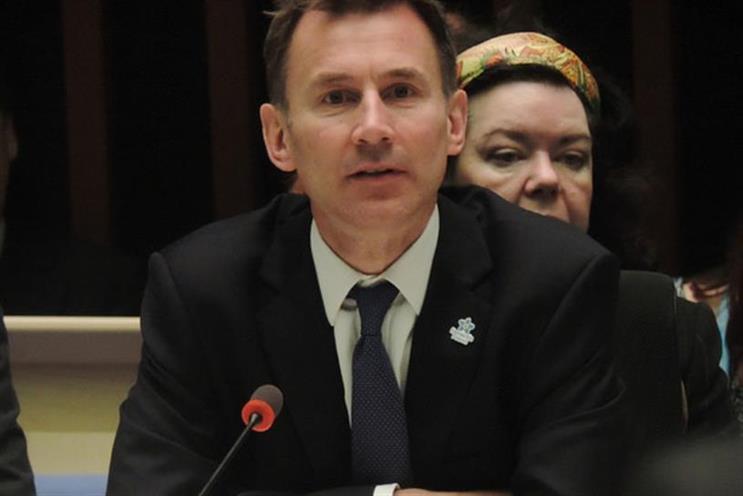 National Obesity Forum spokesman Tam Fry told Campaign the strategy was almost certain to be delayed significantly and that its fate was likely to depend on the identity of the new secretary of state for health, who is yet to be announced.
Reports this morning stated that incumbent Jeremy Hunt had been sacked from the role, but this is yet to be confirmed.
"Until we have new ministers in place we won't have any idea of whether the strategy is going to have any momentum behind it," he said.
He accused Cameron and Hunt of "selling child health down the river" by continually failing to announce the strategy, despite the health secretary describing childhood obesity as a scandal.
In an interview in The Times today, Jamie Oliver expressed concern that the political upheaval of the last three weeks could threaten the strategy he has championed.
"I was a year into working on it, and it is my one hope in all of this [the referendum result] that it comes to something," said Oliver. "I don't know where it is now. The right thing to think is that, whatever happens, this is still as important as it was a week and a half ago."
A spokeswoman for the Department of Health said that to the best of her knowledge, the change of government would not affect the timing of the publication. No date had been confirmed, but the DoH had previously indicated it was due over the summer.
"Laughable" delays
In March, outgoing Chancellor George Osborne drew mixed reactions from campaigners by announcing a levy on sugary soft drinks, but no strategic framework to go with it. The move has also drawn harsh criticism from soft drinks industry players including Coca-Cola.
Around the same time, Professor Graham MacGregor, chairman of Action on Sugar, described the delays to the strategy as "laughable".
"It was coming out last September, then it was coming out in December, then it was coming out in March and now it's some unspecified time in the summer," said MacGregor.
He yesterday expressed exasperation over the prospects of the strategy, telling The Grocer: "This latest news is yet another blow after we heard from reliable sources that the original proposals were going to be watered down anyway.
"I'm really pissed off that after two years campaigning and with our proposals having sat with Jeremy Hunt for all that time it looks like all this is going to come to nothing."
Advertising changes
In May, the Committee of Advertising Practice said it was considering proposals to change the regulations governing the advertising of foods high in fat, salt and sugar (HFSS) to children.
These proposals would have limited the advertising of HFSS foods to children and teens online, potentially prohibiting it; and also loosening existing rules to make it easier for non-HFSS foods to be promoted to children by, for example, using licenced characters.
The consultation on the proposals is due to close on 22 July, and Campaign reported last week that according to sources close to the government, Cameron was keen to push he changes through before he left office.
At that stage, however, he looked set to have a further two months in the job, with May expected to face Andrea Leadsom in a vote of the Conservative Party membership.
With the ascension of May to the top job without the need for a vote, Cameron will not have the opportunity to pursue any of his final priorities.
Update: Jeremy Hunt was reappointed as health secretary under Theresa May.