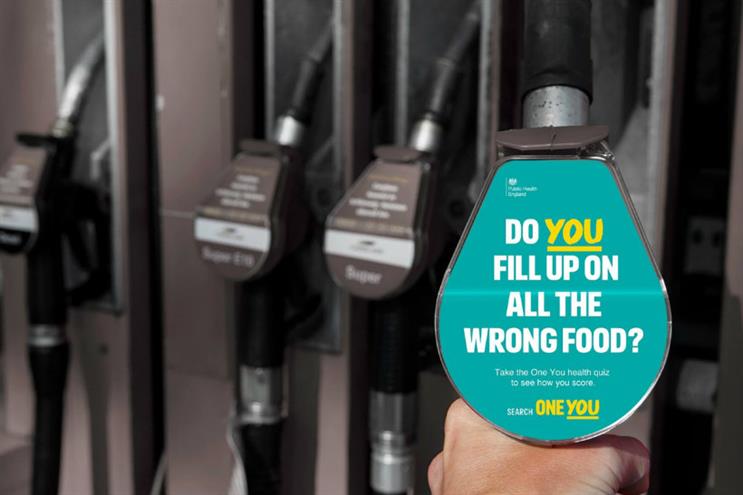 Public Health England (PHE) has launched One You today (7 March) with a campaign driving people to an online quiz called 'How Are You?'.
The quiz asks simple questions around eating habits, exercise, alcohol intake and smoking, eventually giving the user a score out of 10. It gives tailored advice on ways to break bad habits, pointing users to different PHE apps and services like the Easy Meals recipe app or the Change4Life Drinks Tracker.
PHE is also dipping into customer relationship management for the first time, offering ongoing tailored advice to anyone who signs up for regular emails after taking the quiz.
The campaign, created by M&C Saatchi, is marked by a TV spot targeted at 40- to 60-year-olds who may have slipped into poor eating and exercise habits over a long period of time. Of the £6m launch budget, £3.5m has been spent on media, with the TV spot supported by programmatic and social media ads.
Authoritative voice on adult health
PHE's marketing director, Sheila Mitchell, described One You as the new creative wrap for other adult health intiatives – the idea being that "there is only one you".
The impetus behind the campaign is the 40- to 60-year-old market, described by clinicians as the stressed "sandwich generation" that has to deal with growing children as well as ageing parents at the expense of their own health.
From a marketing perspective, what I wanted to do was create a flexible brand platform that other organisations could join in, whether commercial or the NHS, local government or charities
Professor Muir Gray, advising on the campaign, told Marketing: "In the last ten years, we've started thinking in a new way about risk, and risk factors. It's not only things like diet and smoking [which affect health], but also environmental pressures.
"It's taken us some time to work out the science, but stress is a major factor. The public was ahead of us on this. It has a direct effect on health."
For Mitchell, the challenge is using marketing to encourage 40- to 60-year-olds to learn about basic steps they should take to improve their health.
"It's not just talking at people, but [giving] tools and support stuff that can it make it easy to do," she told Marketing.
"From a marketing perspective, what I wanted to do was create a flexible brand platform that other organisations could join in, whether commercial or the NHS, local government or charities. It's a big flexible campaign idea."
This is the first time PHE has introduced a new brand since Change4Life in 2008, which is targeted at young families.
The idea behind One You was to provide a similarly authoritative brand voice for the older age group.
"The NHS is there in times of trouble, and in terms of symptoms, but in terms of talking about behaviours in an adult-to-adult way, [PHE] can be authoritative. That was the foundational thinking behind the brand," Mitchell said.
Investing in digital
TV remains hugely important for reaching this older market, said Mitchell, with the spot airing from 7 March. PHE has also the outdoor ad spot on a bus stop in Coronation Street for a month, plus teaser ads airing on 6 March.
But digital advertising is becoming increasingly important too, with PHE surprised to find a large proportion of its target audience highly active on Facebook.
"Facebook and social media were much more important to this audience than we realised," said Mitchell. "Three-quarters are on Facebook every day, and they are regular users of social media, both male and female. Facebook can reach a much bigger audience than Coronation Street."
There's also the increased focus on personalisation. Those who take 'One You' quiz and sign up for PHE emails and other wellbeing services will receive ongoing tailored advice, in what Mitchell describes as a "much more coherent commitment" to CRM.
"In the past, our efforts have gone into app development, and not relationship management," she said.
Mitchell described the quiz score as a marketing engagement tool rather than a formal medical score.
She said: "It's just for people who want to get a bit more active. If you want more healthy recipes, we can send you off to five apps which sit behind the One You tool. That's the idea. There's the start of a personalised journey. We give a score, they give us permission to contact them."
PHE has also partnered with a number of brands to launch the campaign, including Asda, Boots and the BBC. It has also partnered with Amazon for the first time, with the online retailer dedicating a section of its site to wellness and health products.