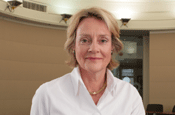 Gordon Brown has endorsed the four-year initiative, the first of its kind in the world. It will be backed by an estimated £200 million-plus worth of donated space and creative input from across the marketing communications industry.

PepsiCo, Coca-Cola, Mars, Nestle, Tesco, ITV and Sky are among the groups supporting the effort. Some will donate thousands of pounds to sustain it through to the 2012 London Olympics.

The Advertising Association, whose chief executive, Baroness Peta Buscombe, has spent almost a year secretly getting ministers and major advertisers on board, will co-ordinate the campaign. Brown gave it his blessing at a meeting with her two weeks ago.

It marks the industry's biggest ever collective effort to confront a problem its critics accuse it of helping to fuel. Unless action is taken, 40 per cent of the population is likely to be seriously overweight by 2025 at a cost to the country of about £45 billion.

"The industry has been brilliant at selling others' products but not at selling itself," Buscombe said. "This is the perfect way to demonstrate the popularity of advertising."

The industry's effort - as yet unnamed - will dovetail with the Government's own £75 million campaign promoting healthy diets and exercise.

Scheduled to start early next year, the campaign will include above and below-the-line and online activity, in-store and on-pack promotions.

Its symbol will be a logo that can be used by commercial advertisers and government bodies. "You are likely to see it everywhere from a local swimming competition to the shelves in Tesco," Buscombe said. Use of the logo will be policed to protect it from abuse.

A small AA team of marketing professionals will oversee the campaign, which will focus on healthy lifestyles rather than the dangers of obesity.

One of the team's first decisions will be whether to appoint an agency roster to produce the work or put together a "dream team" drawn from the industry.

AA executives admit they have been fending off renewed attempts to introduce a 9pm watershed on snack food advertising. However, Buscombe denied the health drive was part of a deal under which the Government would not impose further ad restrictions.

"I have made it clear to those wanting to take part that it would be crazy for us to expect a quid pro quo," she said.