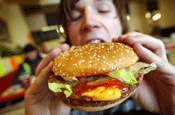 The Government wants to create a "social movement" similar to Make Poverty History as part of the new partnership with advertisers, agencies, the food and drinks industries, the media, experts, parents and voluntary groups.
Details of a multimedia campaign ranging from TV commercials to direct mark¬eting will be announced this summer. The Department of Health will use COI to run a pitch, and more than one agency could be involved.
"We won't be exclusive; we want to see what people bring to the table," one government source said.
Britain's first campaign on obesity will be funded by the Government, with £75 million set aside for the next three years, but some sponsorship could be considered. Crucially, the work will not be gov¬ernment-branded, to avoid the risk of creating a "nanny state" campaign that the public would ignore.
While ministers want to shape the campaign's direction, they will allow their partners to influence its content. Whitehall officials are comparing the blitz to the landmark Aids campaign in the 80s and more recent anti-smoking drives. It will warn people about the dangers of obesity, but avoid shock tactics, stigmatising fat people and telling parents how to bring up their children.
Phase one will target very young children. As it rolls out, messages for teenagers and then adults will be added.
The work will be based on extensive research by 2CV. It will tackle commonly held assumptions such as "it won't harm them if they enjoy it" and "my children are big-boned".
Advertising and food industry leaders welcomed the new partnership. Baroness Peta Buscombe, the Advertising Association's chief executive, said: "Tackling obesity is about behavioural change. This is why the Government, industry and stakeholders need to work in partnership on initiatives to improve the health of the nation."