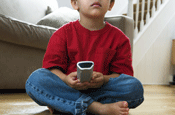 The independent study of the "commercialisation of childhood" could lead to more curbs on advertising. Ministers are alarmed by research suggesting children recognise 400 brands by the age of ten and sympathise with parents who decry "pester power".
Ed Balls, the Schools Secretary, said: "I want to know if advertising and shopping, and other influences such as media and entertainment, marketing and promotion, commercial websites and sponsored events are affecting our children's lives in any way. I want to know what these things are telling young people about how to behave and what to believe."
The inquiry, to report by March next year, will be headed by Professor David Buckingham of London University's Institute of Education. He promised to look at the "positive aspects" of children's involvement with the commercial world as well as the negatives.
Baroness Peta Buscombe, the chief executive of the Advertising Association, which will give evidence to the
review, said that it was an opportunity for the industry to demonstrate that its codes are working.
She pointed out that a "pester power" ban in the codes would become statutory in May as part of a new consumer protection law.
"The advertising industry takes a very responsible approach towards children and the current rules require it to have special concern for their protection," she said.