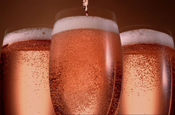 The "mandatory endframe" rule would apply to broadcast and cinema ads, with similar warnings included in press ads and posters. The warnings could include information about the calories in drinks.

A crackdown has been recommended by the Government's Advisory Council on the Misuse of Drugs. The council's research, to be published next year, suggests alcohol ads appeal to young people.

It calls for curbs on sponsorship of sporting events and teams and music festivals by drinks companies. Ads promoting products above a certain strength could be banned.

The council proposes a ban on drinks ads between 6am and 9pm and during programmes shown after the proposed watershed that are likely to appeal to children.

The ad industry is confident of seeing off calls by MPs and pressure groups for a watershed.

But the calls for cigarette-style health warnings may appeal to ministers as they look for new measures to combat alcohol abuse.