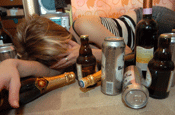 Ministers are mulling over further curbs as part of a review of the price, promotion and harm of alcohol, which will be published this summer.

Ed Balls, the Children's Secretary, said: "There seems to be a bulge of advertising of alcohol between 4pm and 6pm.

That is often a peak time for mothers and also young children to be watching TV."

Ministers are expected to order a tightening of the existing ad code rather than impose legislation.

In a strategy document this week, the Government said it would "carefully consider how excessive drinking by young people could be reduced through further restrictions on alcohol advertising".

The Advertising Association is contributing to the review and does not accept that new controls are inevitable.

Sue Eustace, its director of public affairs, said: "The advertising codes were significantly tightened in 2005 to
ensure that alcohol ads are not directed at young people and do not promote excessive drinking.

"The changes introduced in broadcast have been taken further by the advertising industry, also to cover non-broadcast, clearly demonstrating its sense of responsibility in this area."