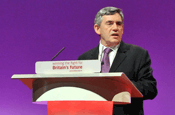 Alan Johnson, the health secretary, is backing Andy Burnham, the culture secretary, whose department is strongly opposed to a ban on drinks commercials being shown until after 9pm.

His ?officials calculate this would cost the advertising and broadcasting industries £100 million a year.

There have been conflicting signals from the Government over whether it would support demands by MPs and pressure groups for the clampdown on drinks ads on the grounds it would combat binge drinking.

Dawn Primarolo, the public health minister, is sympathetic to the idea but is set to be overruled by Johnson.

He is not persuaded that the mixed evidence about the impact of alcohol ads would justify the revenue loss.

The step back from a watershed comes despite a warning about the dangers of advertising by Gordon Brown in his speech to the Labour conference on Tuesday.

He said the "new pressures on parents" included "advertising aimed straight at their children".

The Government will take a final decision after receiving a study by the University of Sheffield into the link between alcohol ads and consumption later this year.

Sue Eustace, the director of public affairs at the Advertising Association, said: "Alcohol advertising in the UK is subject to very strict regulatory codes which apply 24 hours a day, seven days a week.

"These provide the correct framework for responsible alcohol advertising and a 9pm watershed ban would do nothing ?to tackle the root causes of alcohol misuse."