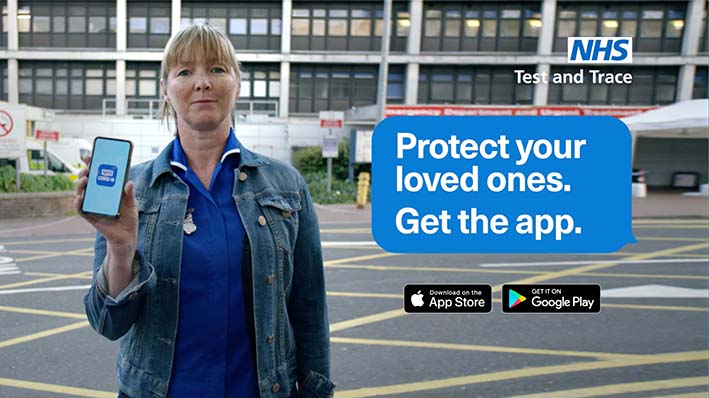 The government has unveiled an ad campaign to support today's roll-out of the much-delayed contact-tracing app as part of its Test and Trace programme.
A spot, created by MullenLowe UK, will be shown on primetime TV tonight to highlight the new NHS Covid-19 app, using the strapline: "Protect your loved ones. Get the app." Activity is also running across radio, print, out-of-home, social media, digital display advertising and PR.
There will also be a "national roadshow" this weekend led by local authorities to encourage the public to downloadthe app.
In June, the government was forced to abandon its centralised contact-tracing app due to privacy concerns. The new app uses technology supported by Apple and Google, and works by logging the amount of time an app user spends near another, and the distance between them, via Bluetooth (rather than GPS). It will notify the user if they have been in close contact with a confirmed case and they will be told to self-isolate.
The government has stressed that the app does not hold personal information such as name or date of birth and requires only the first part of a user's postcode to help manage local outbreaks.
The Data & Marketing Association has carried out its own analysis of the privacy policy and user experience of the app. Chris Combemale, chief executive of the DMA, said: "Consumer confidence and trust will be imperative if the new app is going to work. After months of delays, public trust in the delivery of the track-and-trace system is low, so it is important that government communicates the benefits of the new app clearly to ensure the trust in and take-up of the app needed."
A number of issues have already emerged on the day of launch, including Android users accidentally downloading the trial version used in the Isle of Wight and Newham, and visitors to Apple's App Store being directed to New Zealand's contact-tracing app, according to The Guardian. It has also been suggested that the app might not work on phones from earlier than 2018.
From today, certain businesses in England are required by law to display NHS Test and Trace QR codes for Covid-19 app users to check in.
Combemale added: "Over the last six months, businesses across the UK have developed their own contact-tracing systems in the absence of a centralised approach from government. Now they have been told they must use this new app from today, but with few answers to the many questions they may have and no time to ask them. The UK government must provide clear guidance for businesses on what they need to do."
Health secretary Matt Hancock said: "We have worked extensively with tech companies, international partners, and privacy and medical experts – and learned from the trials – to develop an app that is secure, simple to use and will help keep our country safe.
"Today's launch marks an important step forward in our fight against this invisible killer and I urge everyone who can to download and use the app to protect themselves and their loved ones."