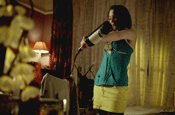 Total spend was up 15 per cent or £21 million year-on-year, as Whitehall departments ran a series of high-profile campaigns on subjects including responsible drinking, anti-smoking, Army recruitment, road safety and climate change.

Digital was the biggest growth area in this year's budget by far, up 57.6 per cent to £35.4 million. The Government now spends more on digital media than on any other, outside traditional advertising.

Spend on research rose 30.5 per cent to £22.7 million, audio and television by 29.3 per cent to £17.7 million, public relations and sponsorship by 28.5 per cent to £29.2 million, direct marketing by 11.8 per cent to £33.5 million and events by 19 per cent to £13 million.

The only area where spending dropped was publications, down 2.3 per cent to £31.4 million.

Over the previous 12 months, COI's ad budget dropped by 12 per cent to £135.9 million.
However, the jump in the 2007-08 financial year does not take COI spending to a record level.

When the ad budget is adjusted for inflation, the Government spent £184.1 million in 2000-01 and the previous Tory administration £183.4 million in 1986-87.

During the last financial year, COI's turnover rose 15.9 per cent to £391 million. It claims that its bulk media buying discounts achieved savings worth 47 per cent of the ad budget for taxpayers.

Alan Bishop, COI's chief executive, said: "From events and direct marketing, to research and digital, both COI's established and newer channels have shown growth over the year."