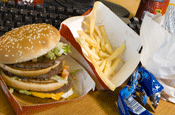 Although ministers are cooling on the idea of further restrictions on TV commercials, they are worried about new research showing that more children are being exposed to ads across other media for "bad" foods and drinks.

A study for the Department of Health by Thomson Intermedia found that child-themed advertising across all media fell by 41 per cent, from £103 million in 2003 to £61 million in 2007, even though the food and drink ad market grew by 19 per cent. The biggest drops were for fast food, confectionery, non-alcoholic drinks and cereals.

Although that will give ammunition to the ad industry's campaign against new curbs, ministers have seized on a 42 per cent rise in advertising in the national press and women's magazines and an 11 per cent increase in radio, internet and cinema. TV commercials dropped by 46 per cent.

Dawn Primarolo, the Public Health Minister, said: "I am pleased that there are now fewer ads on TV that are tempting our children into bad eating habits - but we must keep our eye on other types of media. I hope that the industry will continue to play its part in reducing the exposure that children have to the promotion of food which is high in fat, salt or sugar."

The report says: "This growth has been dominated by press, which has grown its food and drink revenues by 159 per cent and doubled its market share of the overall food and drink advertising market since 2003.

"In contrast, TV has witnessed slower growth of 6 per cent ad-spend and has consequently lost market share to press. Although TV remains the most popular advertising medium, the relative and actual increase in the numbers of new food and drink advertisers has been greater for press and internet."