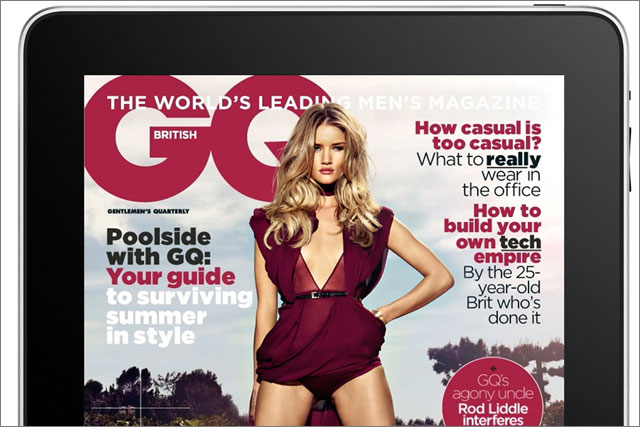 The monthly Condé Nast men's title launched its magazine-style app with its July issue, featuring specially designed video ads from Glenfiddich, Tag Heuer, Ralph Lauren and L'Oreal UK's fragrance Armani Code.
The ads are displayed in full, alongside selected editorial content.
GQ's print edition has an average issue circulation of 120,087 copies, of which 102,381 were actively purchased, according to ABC data for the second half of 2010.
The title will now be available to download for the iPad each month through Apple's App Store, starting with its September Men of the Year awards special.
Jamie Bill, publishing director of GQ, said: "At the forefront of digital development in the quality men's sector, GQ has seen a strong response to our iPad app launch, proving it's a valuable alternative route to read [the magazine].
"The app is building on our audience engagement, maintaining the editorial integrity of our brand and offering an exciting standout environment for advertisers."
John Mangan, general manager of prestige and collections at L'Oréal UK said: "The first British GQ app was a real step forward in how TV, print and digital coexist.
"Interactive, innovative with unique content, it allowed us to engage at a deeper level with the reader giving the first 360 degree perspective of a fragrance outside of a website."
Separately, Time Inc, the US publisher owned by the same company as IPC Media, plans to boost its digital advertising by creating a "magazine" tablet app for each of its 21 US titles by the end of the year.
Times Inc titles InStyle, Entertainment Weekly and Real Simple will soon have magazine-style tablet apps to match those already available for People, Time, Sports Illustrated and Fortune.
IPC Media launched its first fully optimised iPad app, for Wallpaper magazine, to coincide with its August edition and is set to develop digital magazine tablet apps for other UK titles.
Maurice Edelson, a member of Time Inc's management committee, said: "In the coming year, there will clearly be many more consumers using tablets, accelerating demand for content and driving advertiser interest.
"Having our entire portfolio available on tablets will create a significant new digital reach for our advertisers."
Time Inc secured a deal with Apple in May to allow its existing subscribers free access to iPad apps.