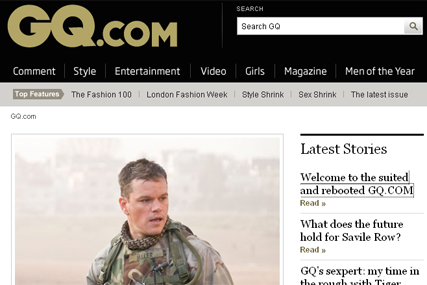 One of the biggest reasons for the changes is to provide a simpler user experience, according to Condé Nast Digital Britain publisher Jamie Jouning.
Jouning said: "One of the problems with the old site was a lot of the content was hidden."
The reduction in the number of channels gives channel sponsors a bigger audience.
The key channels are fashion, entertainment, comment and girls. Comment includes daily opinion from GQ editors, guest bloggers and writers such as Tony Parsons and Tom Parker Bowles.
Condé Nast is in the process of switching all of its websites from a platform called DSE to an open source platform called Umbraco, which is also used by the BBC.
Wired and Condé Nast Traveller are already on Umbraco and all its other sites are expected to switch to it by June.
GQ.com claims 500,000 unique users per month and 30,000 subscribers to its twice-weekly email.