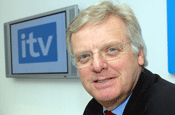 Speaking at a Royal Television Society event this morning, Grade proposed an alternative option to ITV retaining its PSB status that would see it operate as a purely commercial brand with less to regulate it. This would involve it moving its output to the digital terrestrial platform Freeview, allowing it to operate free of PSB content.

He said that while ITV's preferred option, in its recent submission to Ofcom's PSB review, is to remain as a PSB, the alternative could provide ITV with a more unified brand and greater coverage across the UK.

On CRR, Grade said: "The outcome of that review will materially affect our decisions for the future."
The Office of Fair Trading is currently investigating the CRR conditions, which were imposed as part of the merger of Carlton and Granada to form ITV plc in early 2004.

Grade called on Ofcom to announce a new settlement for British broadcasting "urgently" so that it can be implemented by the end of 2012. He said that this must involve less regulation for ITV.
"It's time for ITV to be left alone to operate as a business. The residual legislative and regulatory burden that ITV currently carries has resulted in depressed margins compared with commercial broadcasters in the rest of Europe," he said.