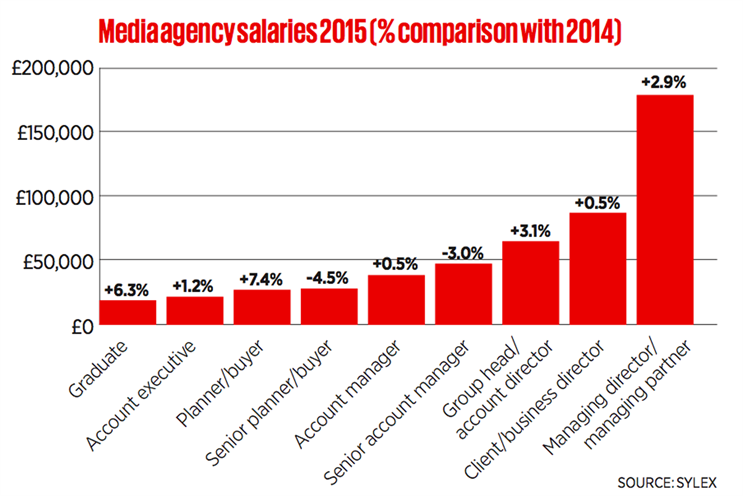 Graduates saw average pay leap 6.3 per cent to £19,300 – the first increase "in several years", according to Alex Michaels, the managing director of Sylex, a recruitment consultancy that compiles an annual survey of pay at media agencies and owners.
Those with one to two years' media agency experience did even better, with a 7.4 per cent pay hike to £27,500.
Michaels said agencies are willing "to pay a little more for good grads with strong numeracy skills" to handle new disciplines such as programmatic buying.
However, agency staff at a mid-manager level suffered a dip because of a lack of demand.
The average pay for a senior account manager fell 3 per cent to £48,000. Pay at the account director and managing director levels increased by about 3 per cent, to £65,500 and £180,000 respectively.
Peak salaries at almost every job level rose, as agencies will pay "top whack" for the right candidate in competition with data and tech companies.
Sylex saw a similar pattern at media owners, with junior sales employees accounting for the best increases but at a lower rate than their counterparts at media agencies. A graduate salary was flat at an average of £18,200, but the peak rose.
Michaels expects staff numbers and pay to keep rising at agencies in 2016.