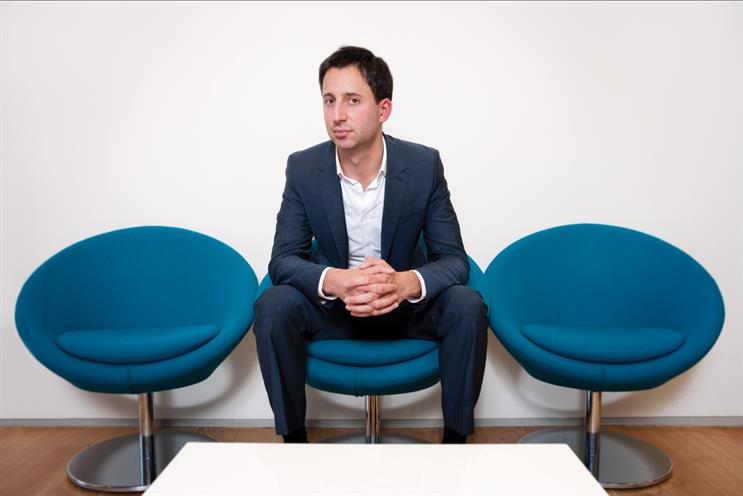 LinkedIn's UK offices have an unexpected air of sil­liness. When Campaign visits, each corner of the floor is elaborately themed: Charlie And The Chocolate Factory, a pirate ship, Las Vegas and Wimbledon. The set-up – the result of a staff competition to decorate workspaces – may not be what you'd expect from the headquarters of the company many dub "Facebook for business".
But Josh Graff, who has headed the EMEA advertising division since March 2011, understands the importance of making the professional playful. At a youthful 22, he founded Jam Inter­national, an early in-game advertising agency that he sold to Massive Inc, which itself then became part of Microsoft. He later worked at Electronic Arts.
The past two years have certainly been fun: Graff is now propelling LinkedIn through hyper growth, having quadrupled the region's sales team from 30 to 125 people, spread across eight offices. Global revenue from marketing solutions rose 56 per cent to $74.8 million (£47.6 million) in the year to March, although this is only 23 per cent of total income, dwarfed by the recruitment side of the business.
Meanwhile, the user base for the site – founded a year before Facebook and celebrating its tenth anniversary in 2013 – has gone from 90 million to 225 million people.
Graff is charming and enthusiastic, with a natural understanding of the digital world (his partner, Jon Steinberg, works in PR at Google). "He has a very smart, active brain," Lindsay Pattison, the chief executive of Maxus Worldwide, says. "He doesn't suffer fools gladly but he does it with elegance. He's an impressive media owner to put in front of clients, because he's not just selling."
LinkedIn certainly isn't Facebook, Graff says – and that's part of the appeal. "You don't want your Saturday night to meet your Monday morning," he states.
Graff believes users approach LinkedIn in a "purposeful" mindset (as opposed to a "casual" mindset on other social networks), which dictates the format and even the content of ads. Members can receive just one sponsored "InMail" message every 60 days – a move that avoids hassling the influential audience and guarantees advertiser cut-through, Graff says.
'Three years ago, your news stream was just who you had in your network. Today, it is a rich content feed'
"We are conservative in the amount of times that we show an ad to our customers. If you look on the home page, there's very little clutter: we try to keep the interface as clean as possible.
"It's not about short-term gratification, it's about a long-term vision, which means that the language might be more serious, and it is critical that you deliver a benefit. Our advertising is often led by thought leadership and sharing trends, rather than products and services."
While some users and agencies see LinkedIn as little more than a digital contacts book, Graff has wider goals. A major shift towards content publishing is under way and he has his sights set on the site being "the definitive professional publishing platform on the web".
His mission is spearheaded by the 250 business luminaries blogging for the Linked-In Influencer programme, which was launched in Oc­tober last year. Sir Richard Branson is a keen poster, along with JP Morgan's chief executive, Jamie Dimon, and Troy Carter, Lady Gaga's manager. Bill Gates signed up last week.
Companies increasingly use the platform to publish, Graff says: "Three years ago, your news stream was just who you had in your network and which connections they were making. Today, it is a rich content feed that pulls in companies providing relevant content. Company updates have been around for a while, but it has been in the past 18-24 months that I've seen a rocket-booster effect of companies regularly posting updates every day."
LinkedIn's key products, display advertising and sponsored InMail messages, will soon include "sponsored updates": status updates from companies that a user isn't "following", which are being tested with some clients.
LinkedIn has teamed up with content providers such as Bloomberg and CNN to provide solutions for companies, and Graff believes the publishing trend will "continue at pace", adding more depth to the platform.
The challenge, according to Clive Punter, the former LinkedIn global managing director of marketing solutions who hired Graff, is communicating this evolution to both users and advertisers: "They need to understand the full capability that LinkedIn has. It's tough – it's not like buying a billboard. Social media still has lots of intricacies that marketers are still coming to terms with, because it's moving ever so quickly. Lots of major companies still don't use the back-end ecosystem of company pages on LinkedIn properly."
The social network has resources – and data in projects such as the fascinating Linked­In Labs – that it could sell more aggressively to leave any bland corporate image behind. But with the expanded sales team in place, expect a knock on your door from Graff to explain that soon.
The lowdown
Age: 33
Family: Lives with partner, Jon, 32
Lives: Kilburn, London
Desert-island luxury: A pillow
Favourite media: TV, especially Modern Family, A League Of Their Own,
The Good Wife and The Americans
Hobbies: Theatre, scuba diving and spending time with my nieces and nephews
Motto: Do unto others as you would have them do unto you