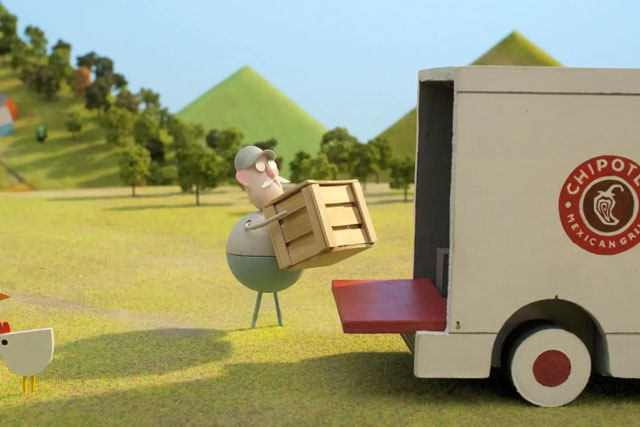 FILM
Mick Mahoney executive creative director, Euro RSCG London
Contrary to popular belief, there appeared to be no block voting or other such funny business. Just a decent bunch of jurors who all loved film enough to sit in a cold, dark room for seven days and debate the merits of a record 3,500 entries.
Split into three rotating groups, we waded through 400-odd films per day per group for the first three days. We then spent the next four days forensically examining what we'd seen.
Without exception, all the very best work cut effortlessly through the cultural differences between the 20 different nationalities in the room.
The 12 golds pretty much voted themselves. Two fewer than last year overall, but two more for the UK: "Dip Desperado" (AMV) and "three little pigs" (BBH). The UK also had some pretty solid silvers in Axe (BBH) and Wall's (Saatchis). Consensus among the jury was that there aren't many countries that can turn out a better bit of TV than us.
Of the non-UK work, DirecTV (Grey New York) and Canal+ (BETC Paris) were the standouts. Canal+: a brilliantly written spot. DirecTV: an object lesson in American comedy timing.
It was generally the spots fighting for the silvers and bronzes that most often got lost in translation. The comedy highlight of most days was someone from the jury offering cultural justification for a piece of work from his or her country - including my own defence of the Wall's campaign. You try explaining that there was a dog that used to say "sausages" on That's Life back in the 70s and that Wall's has used dogs ever since, making the ad a clever reinterpretation of an icon.
The contenders for the Grand Prix were always very apparent. And, by the final vote, it wasn't even close. Chipotle (Creative Artists Agency) was the runaway winner.
CREATIVE EFFECTIVENESS
Lucy Jameson chief strategy officer, Grey London
The Creative Effectiveness category is a chance to demonstrate to clients that outstanding creativity really does work. After all, if we want to be paid better for our work, we have to get better at putting a financial value on it.
Unfortunately, few of the cases we saw managed to put a value on their creativity at all. Instead, many entries treated social media success or earned media as ends in their own right. They're not. Clients want to know whether all those Facebook fans or YouTube hits are generating more sales.
To win the Creative Effectiveness (and gain any credibility with clients), we must be able to set out the costs of communications and the incremental sales or profit gained as a result of those communications - and those communications alone. We saw far too many cases that didn't look at hard business results or just assumed that the sales uplifts were down to the communication. They didn't consider things such as pricing, promotions, distribution or competitive activity, let alone macroeconomic factors.
Saying "sales kicked ass" or "sales increased eightfold" is not enough. We wanted to give Lions to a couple of campaigns we were sure had massive effects, but the cases simply didn't do them justice.
The winning cases didn't fall into those traps. Interestingly, four of them came from the usual suspects: Unilever, Procter & Gamble, Diageo and Mars. And, for the second year in a row, the Grand Prix went to a UK entrant (Bartle Bogle Hegarty for Axe/Lynx).
I found it frustrating that so few of the Cyber or Titanium and Integrated winners managed to demonstrate effectiveness. We keep hearing that digital is far more accountable, but we saw little evidence of this.
I hope next year that will change. And let's hope it's the UK that does it.
PRESS
Steve Jones creative partner, Abbott Mead Vickers BBDO
Of all media, new and old, word-of-mouth is the best.
Some campaigns transcend paid-for advertising to become conversations, and social networks now allow this to happen globally.
But what gets us talking in the first place? Football rumours, current affairs and the latest celebrity gossip are the stuff of everyday conversation. Washing powder, white goods and woolly jumpers are probably not.
Or perhaps it depends on how you talk about them.
When the selected gold winners in Press were put on the wall in Cannes last week, one campaign stood out. Actually, it leapt out.
"Unhate" is a typically controversial Benetton campaign and is created by Fabrica.
At launch, the Pope threatened legal action. The White House followed suit. Although individual executions were withdrawn, they continued to "run", getting picked up by news agencies and appearing on blogs and social networks, creating global debate.
They polarised the opinions of the public, but not those of the jury. "Unhate" received almost 50 per cent more votes than the next most-favoured campaign and was unanimously selected as the Grand Prix winner.
The campaign has evolved from appropriating contentious photographs to creating provocative but positive iconic images, while "unhate" bestows a dimension to take them beyond humour.
While dealing in the same subject matter as previous work, the campaign has developed a lighter touch and positivity that seem more in keeping with the product and the category.
There's also an argument that, when times are tough, the public respond better to messages with optimism.
It's a campaign and a sentiment that deserve to be congratulated, rewarded and, ultimately, talked about.
OUTDOOR
Paul Silburn executive creative partner, Saatchi & Saatchi
Outdoor, more than any other category at Cannes, plays host to some weird and wonderful work. We saw campaigns for nails (the kind you bang into wood), we saw ads for cement and telescopic rifle sights, and we saw lots and lots of urinal advertising, especially from South America (where they must go to the toilet a lot more often than we do).
But then we got to the good stuff. And the good stuff was brilliant. We awarded two Grands Prix: one to a traditional poster for Coca-Cola from Ogilvy & Mather Shanghai and the other to Jung von Matt for Mercedes-Benz's "the invisible drive". One was a fantastic use of technology to convey a simple message. The other was a classic, iconic visual - the kind that only comes along once in a very long while.
But TNT's "push to add drama" (Duval Guillaume Modem), the Lego Star Wars organ (Serviceplan), Carlsberg's "bikers" (Duval Guillaume Modem), JWT Mexico's Kit Kat work and the JVC camera campaign from DraftFCB Brasil all might have won in a different year.
But in 2012, for me, the Grand Prix winners completely reinforced the power of great outdoor. The Coke ad, for example, is so good that I think Coke should use it as part of its corporate identity. Take all the new technology the world has to offer and, sometimes, one iconic image is still the best.
The UK had a decent showing - two golds, three silvers and two bronzes - but we are certainly behind the rest of the world when it comes to the more innovative end of the category. Why? Well, outdoor is not all about technology, it's about the idea and how it lives in real life. And, sometimes, I think we in the UK have become obsessed with using technology at the expense of simplicity of thought. It might be an old-fashioned principle, but great ideas can, and should, live anywhere. Even urinals.
MEDIA
Alex Altman chief executive, Initiative
And the winner is ...
Googall voyce surch (you see what I did there?).
Congratulations to Manning Gottlieb OMD - it emerged victorious after 1,700 collective hours of judging more than 3,200 media entries from across the globe. The Cannes Lions Media Grand Prix comes with the descriptor "best piece of media work in the world". It's an Olympic gold medal and Wimbledon singles championship rolled into one.
As judges, we were looking for "authenticity". To win, work had to demonstrate how insight and strategy combined with creative thinking had impacted on a client's business/cause.
We should be proud that, after such a rigorous process, the best of the best was from the UK. It wasn't the only piece of great work from the UK: Grey London won a gold Lion and PHD won a silver. Given that only 3 per cent of all entrants win a Lion, we should also be rightly proud of the three bronze Lions won by UK shops. It's not a bad haul but, over the course of six intense days of judging, I was left with the impression that the UK wasn't quite at the top of its game this year. I would go even further and suggest that both Western Europe and North America were feeling the heat from emerging markets - particularly South America and the Middle East.
It was also inescapable that much of the very best work - five of the 12 gold Lions - was for charities. I would suggest that you take a look at these five cases and marvel for yourselves at what was created and what was achieved.
There is a worrying trend to view Facebook "likes" as success metrics in their own right and it is all too easy to view event/stunt-based work as more impactful than considered and integrated narrative-based media work. However, I arrive home inspired at the brilliance and beauty of our industry and, to MG OMD, I offer my sincere kon-grat-yu-lay-shuns.
DIRECT
Caitlin Ryan executive creative director, Proximity London
Cannes is about foreplay. Sexy, look-at-me, brilliantly creative engagement ideas that strut their stuff and murmur "you know you want me". And it is so hard not to give in and shout out "oh yeah, baby". Particularly when you've been stuck in a cold, dark room for 15 hours and you see a brave, funny, handsome idea that makes you want to stroke its chiselled, stubble chin, throw gold at it and get out there on the beach.
But no, I am sadly one of those tres dull jury members: "Yes, I do appreciate that idea is truly awesome. Yes, I do know three billion people found it so awesome they Facebooked/Tweeted/spent 15 minutes rolling around with it but, I have to ask again, did they know or care who they were fooling around with, and did it go to the next stage - ie. is it 'direct'?" Collective groan.
Please don't get me wrong. I love a simple idea. Carlsberg "bikers" (Duval Guillaume Modem) was stunningly so. I love brave ideas. I put the Hidden Pizza Restaurant for Yellow Pages in that category. I saw many other extraordinary examples of both at Cannes. But I also love an idea that targets me selectively and sticks around for when I'm knee-deep in nappies and haven't shaved my legs for two months. An idea that becomes a relationship. I saw fewer of those. For the UK to do better in Direct, we need work that is all three.
Did we get there in the end? Yes. "Small business gets an official day" by Crispin Porter & Bogusky is simple, bold and is changing the tricky relationship between American Express and small businesses.
Did a few foreplay ideas get through at the expense of better "direct" work? I happen to think so, but others in the jury and in the industry will, I'm sure, agree to disagree.
RADIO
Jo McCrostie head of creative, Global Radio
As a group, we set out to reward work we believed was exceptional. We looked for gems that were beautifully executed, but also original and innovative. We were pretty tough, though. We found only nine golds, 18 silvers and 26 bronzes.
Radio is often considered a medium of frequency, but it was a spot for Go Outside magazine by Talent Sao Paulo that reframed our concept of frequency and went on to win the Grand Prix. A radio spot that turned into a mosquito repellent by transmitting a frequency of 15kHz, believed to deter mosquitoes.
The UK did much better than last year. Bronzes went to Anthony Nolan (Albion London) and the Metropolitan Police (Abbot Mead Vickers BBDO), and Tourism Ireland (JWT London) won two silvers. There were awards for a Women's Aid (AMV) campaign and a series of "live" ads for Xfm's Naked Breakfast (Global Radio Creative).
If you look across all of this year's Radio Lions, a pattern emerges. At the more progressive end of the industry, casting and acting still carry huge weight. We are fortunate that the UK has a fantastic stock of acting and vocal talent. To compete on an international level, we need to make better use of this willing, eager and internationally acclaimed talent.
CYBER
James Temple vice-president, executive creative director, R/GA London
Judging the Cyber Lions was an incredible experience. No politics, egos or agendas, just a group of 25 people striving to find the handful of projects that will set the new benchmark for creative agencies and the message to brands for what we see as the future of advertising.
As is the norm at Cannes, the quality in the Cyber category was extraordinary, as seen in work such as "the liberation" (Uncle Grey) and "Rome - 3 dreams of black" (North Kingdom). Both seamlessly merge design, sound, video, animation and technology.
A couple of trends stood out for me. First, Google Creative Lab continues to be a formidable creative force, delivering a rare blend of beautifully simple storytelling mixed with inventive technical execution. Second, it's apparent that agencies are creating work that is useful. The "small business gets an official day" platform has had a profound impact and I assume has been transformational for American Express.
And, finally, we have the brilliant Cyber Lion Grand Prix winners: "Nike+ FuelBand" (R/GA New York) and "curators of Sweden" (Volontaire). The jury unanimously agreed that both pieces of work were visionary, brave and indicative of where the world of marketing is heading. These projects witness brands behaving differently, going beyond what they say to being all about what they do - fitting in and standing out.
BRANDED CONTENT & ENTERTAINMENT
Dean Baker managing director, JWT Entertainment
I just spent four glorious days in Cannes in a dark, windowless room, helping define how we should reward exceptional creativity in the discipline. There were more than 850 entries to judge in this first year and, to be honest, a lot of the work was average at best.
A jury was made up of experts from countries as diverse as India, China, Argentina, Australia and the US, and we felt our biggest responsibility was to craft what we felt exceptional branded content and entertainment is and what pioneering work looks like in this new discipline.
Avi Savar, our president of the jury, said it should be about story first, brand second - which ensures it cannot be confused with traditional 30-second forms of content. I always say it is about creating something I want to spend time with as opposed to creating something that interrupts what I was spending time with - either work. It's about engagement, not interruption.
During each round of judging, we asked ourselves: does this entry mark out where we want the industry to go? We felt a responsibility to give signposts.
The work I particularly admire was primarily led by filmed content. Nissan "GT Academy" (TBWA\Chiat\Day) is truly integrated with a globally successful branded entertainment series at its heart. K-Swiss "MFCEO" (72andSunny) is hugely entertaining and rightly achieved a gold. Qantas (Wonder Sydney) was also hugely entertaining and the relevance to brand was there for all to see.
Banco Popular de Puerto Rico (JWT San Juan) was genius. It also set out to drive action. The simplest of ideas that reached out to the inhabitants of Puerto Rico through the rewritten lyrics of the famous track No Hago Mas Na, which celebrated a life of laziness - the title literally translates to "I do nothing". The revised lyrics extol the virtues of a hard day's work. It set about motivating the people to get a job in a country where unemployment is at 80 per cent.
The Grand Prix was tougher.
The fast-food brand Chipotle, by Creative Artists Agency in Los Angeles, took the first-ever Branded Content & Entertainment Grand Prix. The discussions went on for a considerable time. Our biggest fear being: would the video content be received as a long-form ad? The answer was no - it's a short film, with a great song created for it that went to number one in the Billboard charts. It has events, it has written content. In short, it has everything. It is a content platform. It engages across multiple touchpoints.
Back to one of our original questions: does this clearly illustrate where we want the industry to go? I really hope so.
MOBILE
Peter Sells head of mobile, Bartle Bogle Hegarty
When I was asked to be the UK representative on the inaugural Mobile jury, I was reminded that Cannes is no longer just about the advertising, but about creativity. I guess that means - according to the creative community, at least - 2012 is the Year of Mobile. That's that, then - we can all stop banging on about it and get on with it.
Campaign asked me to talk about the winners, insights, trends etc. But, really, you just want to know how to be a winner - like Grow Interactive/Johannes Leonardo's Grand Prix-winning Google "hilltop reimagined for Coca-Cola" - next year. So, instead, here is your cut-out-and-keep guide on "how to win a Cannes Mobile gold".
1. Put mobile at the heart of your experience. Sounds bleedin' obvious, right? Ask yourself: why is this on mobile? Could it have been done without mobile? In a world where there is increasingly a mobile interface to everything, this is actually harder to judge than it appears. We were looking for intrinsically mobile ideas that relied wholly on the platform's attributes to deliver a valuable experience.
2. If your campaign idea includes the words "treasure hunt" and "augmented reality posters", you're probably not going to win.
3. Emotion works. Being an arch rationalist who loves to focus on mobile utility and measurable consumer value, I have to admit to being surprised about how many of my buttons were pressed. The work that delivers an authentic involuntary response is still the work that gets juries' hands up. Remains true across categories.
4. Reskinning an existing game engine is not going to win you anything. Instead, donate your EUR400 entry fee to charity. Or take me to The Ivy and I'll tell you why licensing Fruit Ninja is not creative. Even if you do add a Star Wars twist. In fact, particularly if you add a Star Wars twist.
5. You don't have to Go Large. You could build an admittedly impressive ecosystem around a fancy pedometer ("Nike+ FuelBand" by R/GA New York). The alternative is to focus on the simple: pacifying the kids in the car (Backseat Driver by Party Tokyo) while at the same time sharing an experience with their parents - priceless; removing all barriers between hunger and a pizza ("VIP fridge magnet" by TBWA\RAAD), so creating a completely frictionless consumer/brand experience - genius; playing with the expectations around using a tablet magazine ("fake ad" by Almap BBDO) - genuinely surprising; instantly rewarding a charitable donation with a beautiful public visual ("pennies for life" by DLKW Lowe) - touching and effective.
All straightforward conceptions doing one thing brilliantly well and fantastically executed.
6. If your case-study video includes a results section that suggests a several-hundred percentage-rate increase in something, or the words "downloaded more than Angry Birds" (apparently the new success metric) - it won't make any difference to a hardened jury.
Mobile is the most interesting, most diverse and most surprising category in Cannes. And it's the youngest. It's the place where product and comms meet, where brand experience and brand perception collide - a subject of intense debate on the jury. It's the most important category and I believe will change our industry's definition of what great creative is.