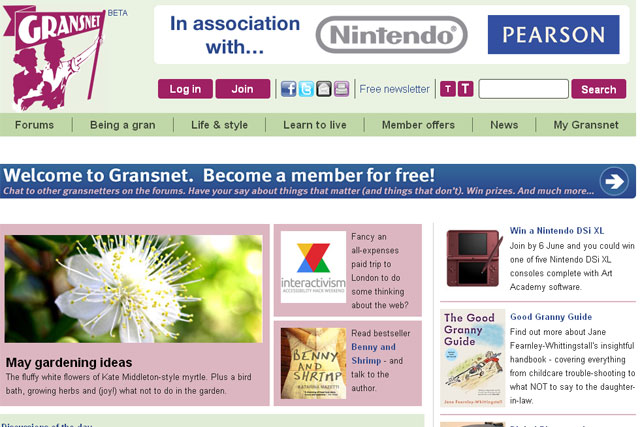 Roberts, speaking at yesterday's (17 May) Association of Online Publishers Social Media Forum about "building smart Communities", said: "The Gransnet community are excited about brands wanting to speak to them as they are a group that is often ignored.
"They are not naïve – it's just they have not become as jaded by the whole thing."
Roberts, who admitted Mumsnet had found traditional advertising such as display less profitable than market research and focus group activity, said brands had to be prepared to face up to criticism on online communities.
She said: "Don't patronise members and, once you start the conversation with them, keep it going. The target audience will always remain your target audience, even if you don't like what they are saying about you."
One of the main themes to emerge from the forum was the need for community publishers to be transparent and open with their communities, while always listening to them.
Stuart Forrest, publishing director of PistonHeads.com, the Haymarket-owned online automotive community, said that publishers should "live in with the community 24-hours a day...As a community publisher it is vital to involve a community, but not to interfere, as essentially, a site is just code and the people make it what it is."
He said it is important to create clear rules for moderating a community and to be prepared to say "no" to advertising which did not suit it.
Another issue raised at the conference questioned how publishers could prevent their communities moving onto other sites, such as social networks, and out of their reach.
Giles Palmer, chief executive of Brandwatch, the social media-monitoring agency, said Facebook's "walled garden" posed a threat to publishers.
He said: "There is a risk that a trapdoor could open which would see conversations migrating into someone else's house."
Ben Heald, chief executive of Sift and chair of the conference, disagreed, saying that it was important to "be social" to bring in new audiences, and communities would come back.
Amy Keen, director of social media at Havas Media, said that while Facebook always provided new ad formats, brands' engagement with communities on that space had become "formulaic".
She said: "One third of brands using Facebook are using it for customers services. But community management and customer service should be separate from promotion."
Keen said publishers benefited from having years of experience with trusted communities, and users took it as a given that it was paid for with advertising.
Justine Roberts said while Mumsnet had a presence on Facebook, it did not create a threat of migration of users, because the Mumsnet community preferred to interact anonymously.