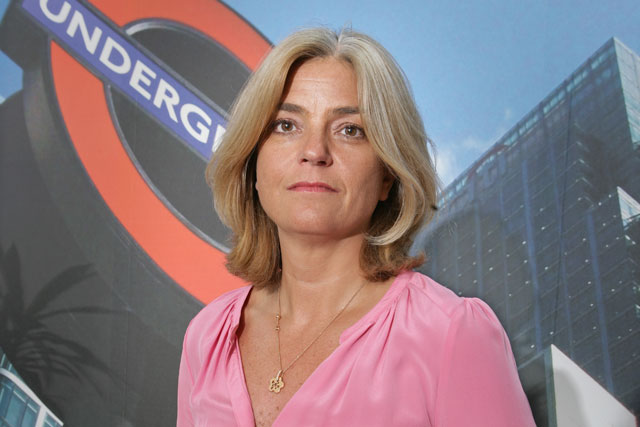 If there's a common theme to our conversations with press planners and buyers before our interview with Linda Grant, it's the notion that Steve Auckland (her predecessor in her new job) will be a hard act to follow. And, unfortunately for all concerned, the sharing of this particular nugget almost always involves a terrible attempt at a Yorkshire accent. Auckland, who's as Yorkshire as Nora Batty's bloomers, is clearly held in great affection.
Recently, in a reshuffle of senior staff at the Daily Mail and General Trust, he was promoted to the role of managing director at Northcliffe Media, allowing Grant, whose star has been in the ascendant at Associated Newspapers for many months now, to succeed him as the managing director of Metro.
When we ask her about the distinctive qualities that she'll bring to her new role, she laughs again. "The fact that I'm not from Yorkshire," she responds. And indeed, she has regional (if less rich in comic potential) credentials of her own, sporting, as she does, a rather genteel and educated take on a Glaswegian accent.
And actually, she knows more than most about Metro's heritage, having worked there in its early years. It launched in March 1999: she joined in September of that year and had worked her way up to the position of marketing director before joining Capital Radio in 2002. (She returned to Associated in 2005.)
So she's more than generous about the privilege of inheriting an asset in such fine fettle. "A lot about Metro is bang on the money," she states. "It's doing incredibly well. We're in an enviable situation. So at this stage, I'm literally just a few weeks into (my new) role - and it has been about immersing myself in the business and seeing what its challenges and ambitions are."
In other words, in the short term, it will be very much steady-as-she-goes. And it's sometimes easy to forget just how well-regarded the paper is these days. Yes, some buyers grumble about how cluttered it seems to be as an advertising environment, but it remains remarkably effective, especially when a campaign has a direct response element. It has a lean, young and hungry sales team that, pound for pound, is regarded as just about the best in the business.
"Metro has a great reputation in the market," Dominic Williams, the press director of Carat, says. One of Grant's challenges, he adds, will be to maintain that status.
And nothing's given in this market. After all, two years ago, there were those willing to predict that the metropolitan free newspaper phenomenon had just about run its course as the advertising downturn claimed two London evening freesheet victims - News International's thelondonpaper and Metro's stablemate, London Lite. Since then, of course, we've seen the launch of The Independent's little sister, i, which, with its 20p coverprice, feels like it occupies an area with new potential, somewhere between free and paid-for.
But Metro isn't just about London, of course. It has distribution in all of Britain's conurbations - and it has maintained a desirable (in advertiser terms) audience of young, affluent commuters. So solid has it been, in fact, that some observers question whether Grant has any scope whatsoever to make her mark.
There are those, for instance, who speculate there's really very little scope for revenue growth, adding that it has reached saturation point in distribution terms. It currently distributes about 784,000 in London and 600,000 in the regions. If it tries to expand on that, the reckoning is that it will dilute its affluent "urbanite" audience. Neither is there much scope for increasing advertising yield or pagination.
Grant, though, takes issue with that analysis. There may be room for judicious adjustments touching all of the above parameters, she implies. But she also gently reminds us of her previous role at Associated, where she was the commercial development director, in charge of developing new revenue streams. She was rather successful too - and her work in developing the group's "increasingly balanced business model" was praised by Kevin Beatty, the chief executive of A&N Media, the consumer media company of DMGT, at an investors' presentation back in March.
The "third stream" strategy is all about deriving more revenue from business-to-business advertisers and developing direct consumer revenues; for example, in areas such as music and games. "The commercial heritage of Metro is one of innovation and creativity and entrepreneurship," Grant says. "The launch team had a blank sheet of paper - and we used it. There will always be new ways of thinking about and looking at the market.
"Part of my background has been in developing new revenue streams. I am not just going to shoehorn what I have learned into Metro - but there are potentially many aspects to what its commercial model can be."
And Alan Brydon, the head of trading at MPG Media Contacts, reckons Associated absolutely knows what it's doing in giving her this new role. "Following Steve Auckland is like what I imagine it will be like to follow (football manager) Alex Ferguson - you could win the league and people still might not be impressed," he avers.
"But Associated is very good at putting the right people in place at the right time. If it says it's confident in someone's abilities, then the rest of us can be too. And Grant is a properly good operator."
THE LOWDOWN
Age: 44
Lives: Chiswick, London
Family: Partner
Favourite media (in addition to Metro): TV and social media, increasingly together
Last book read: The House At Riverton by Kate Morton
Alternative career: As a child, I always thought I'd be a geologist
Interests outside work: Fitness, travelling, enjoying London, skiing and the great outdoors
Motto: More of a favourite quote, really. "If you want to be happy, set a goal that commands your thoughts, liberates your energy, and inspires your hopes" - Andrew Carnegie