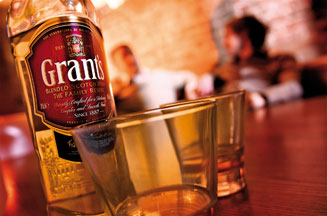 The company started a review in August and approached several undisclosed agencies. The activity was previously handled in-house.

Gyro:HSR's first work for Grant's will be launched in January; it will aim to create a dialogue with whisky drinkers to improve awareness of the brand. The agency will work on the account on a project basis.
William Grant & Sons is also looking to overhaul the CRM strategy across its remaining alcoholic beverages portfolio, including Glenfiddich whisky.

According to a company spokeswoman, William Grant & Sons' global relationship marketing manager, Utadi Murphy, will lead the development of the strategy.
She said Murphy planned to 'recruit and work with the agencies that can best deliver against each brand's needs'.

Earlier this year, Glenfiddich rolled out a global CRM programme entitled 'Explorers'.
Kitcatt Nohr Alexander Shaw was appointed to handle the work on a 'project basis' following a pitch in April 2008. However, William Grant & Sons does not have a retained agency for its eCRM work and Kitcatt Nohr said it was unlikely to be involved in any fresh initiatives for Glenfiddich.
In November Elvis was appointed to handle direct communications for the Sailor Jerry brand. The agency has been tasked with managing its CRM, digital and experiential activity with the aim of increasing the number of Sailor Jerry drinkers.

Other William Grant & Sons brands include Hendrick's gin and The Balvenie whisky.