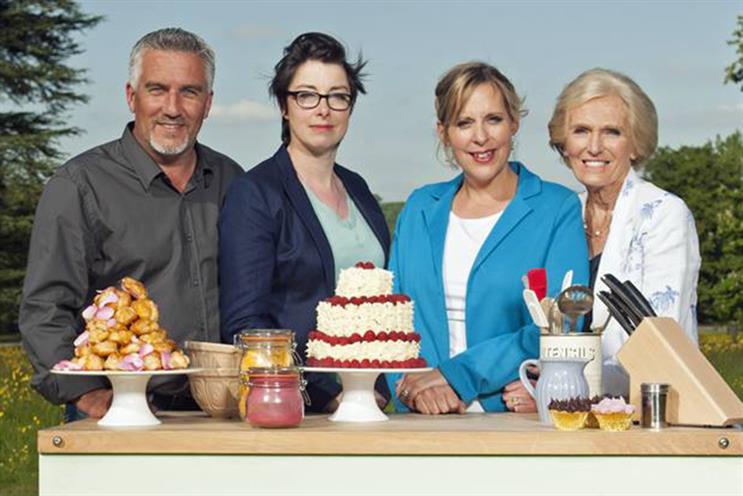 If someone had told you in 2011 that the biggest programme on the tellybox in 2012 would be filmed in a tent in Devon, have a presenter in their 80s and be about scones, you'd have scoffed at them. If they'd said by 2015 it'd be in its sixth series you'd have given yourself a soggy bottom.
Culture happens by accident. It's notoriously difficult to predict what will and what won't be successful. The Great British Bake Off is clearly a good idea. Everyone loves cake and I guess it gives them all a welcome break from instagramming their lunch to watch people baking. Food porn is perhaps the great unifier of modern Britain.
I doubt I'd have commissioned it. But then again when I saw the selfie stick on Kickstarter I thought to myself what tosser would buy one of those. The answer is clearly almost every tosser on a planet teeming with tossers.
Quality of content or concept is not a guide to success you see. Sixty-five million have read Paulo Coelho's The Alchemist. In many ways it's an advertising book. Its success and grip on the popular imagination is down to its distillation of the massive complexity of human experience and identity into a few very simple ideas. People like simple things. The Alchemist is not great literature, it's cake.
The most troubling thing about the age of the machines we are undoubtedly entering is that the 'democratisation' of the technocrats comes down to the removal of cultural gatekeepers like editors and critics. There's no need for anyone to have done the reading and to be able to judge quality in the context of a canon and the progression of human understanding. Quality is a popularity contest. Machines can count the likes and give us more of what we collectively like.
It' s unfashionable to support the elitist notion that people don't know what's good for them. But frankly they don't. In order to keep moving forward culture needs unpopular things. The underground nourishes the mainstream in the long term and we all keep moving. In the world of Spotify and Apple, the Velvet Underground would not have happened. You need mess, inefficiency and money which isn't looking for a return to get great books written and important films made.
With a battle raging around the licence fee, some people argue it's the job of a public service broadcaster to challenge us. I'm not challenged by cake but thinking back to 2011 it was a brave choice to back the Bake Off. And it surely is the BBC's job to find ways to galvanise us, to reach for a national identity and to warm the collective cockles in the face of cold computer logic, environmental Armageddon and the beheadings in the desert. Cake is perhaps the best of us.
I'm not sure if the predictive modeling at Netflix would have come up with Bake Off. I doubt it'd have chosen Mel and Sue to co-present. But what we have is something which started out niche – all hidden on BBC2 – and now it sells like hotcakes. In the age of the machines we are undoubtedly entering, let's fight hard for cultural gatekeepers to back the weird ideas from the frothy peaks of high art to the very British innuendo of Mary Berry getting all hot under the collar in her tent.
Chris Clarke is chief creative officer, international, at DigitasLBi