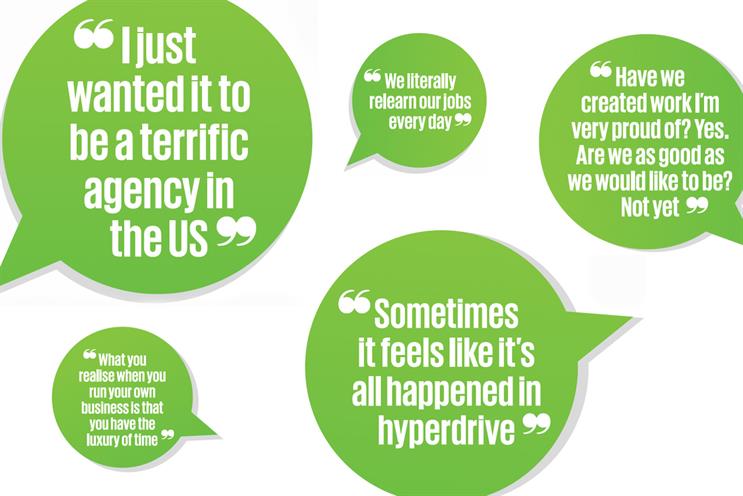 Chuck Porter
Chairman, Crispin Porter & Bogusky

Over the course of our growth, the agency got very different. It got very big. Now, I'm trying to get it back to more like it was. My original vision was that I just wanted it to be a terrific agency in the US.
Pat Fallon and I were friends in the eighth grade. When I saw what he did in Minneapolis, I thought I could do it in Miami. I just wanted Crispin Porter & Bogusky to be a national agency. As it turned out, we were lucky and got a few big clients. We then opened in Colorado and the office ?became a magnet, and we got very big – 600-plus people. And then what ?happened was that the work got worse. Now we're in the process of diffusing our creative leadership.

I went to visit the Copenhagen and São Paulo offices and saw they were doing great, great work because that's all the people care about. When you've only got a handful of people, that's all there is to worry about.
I just wanted it to be a terrific agency in the US
So, when I came back to the US, I said: "I see the future and it's 100 12-people agencies." That was a bit of an exaggeration but it changed dramatically where I saw us going.

In the US, I've got all the creative directors trying to create smaller agencies. So far, it's working. It's tough for the management but good for the work; I can live with that.
David Droga
Creative chairman, Droga5

I would be lying if I said I opened the agency with a business plan.
I just opened it with an ambition to create good work. Success is abstract anyway; profits are just a by-product. But, as you go along, you realise you need to have business and growth – I never saw myself thinking: "Gee, I have to spend £20,000 on a new photocopier."
Success for me means not spending all my time chasing opportunities but rather delivering on them
I just wanted to produce great work, but you grow from there because you want the canvas to get bigger. Success for me means not spending all my time chasing opportunities but, rather, delivering on them. Of course, that's not to say things just drop in my lap.

It's been eight years and we are now 500 people. If you had asked me if the agency would grow that big when I started it, I would have said: "Maybe." Generally, you know where you're going but the way you get there changes all the time – as long as you don't compromise on your principles.

A lot of people in our industry think you have to cap your growth but that's bullshit. I want to prove that you can get better as you get bigger.

Managing people isn't something you think you will spend so much of your time on. I'm privileged that we have great leaders across the business, but you have to map out their individual growth too and make it align with the business.

I never started a business to try to sell it. I looked at agencies such as Wieden & Kennedy and how they have managed to preserve their integrity. There is something very powerful about independence. We are in an industry that often swallows itself. It's important to stick to your principles and grow. I didn't want to build a creative boutique; I wanted to build a creative business.
James Murphy
Chief executive, Adam & Eve/DDB

In a sense, the agency has fulfilled the things we had in our start-up vision. We do quality work for a wide range of clients and brands that matter – the kind of work that changes the fortunes of businesses and gets talked about and shared widely.

But the past seven years have been nothing like we imagined. The momentum, the speed of change, the dizzying array of people we have worked with and the unforeseen dramas.
Sometimes it feels like it's all happened in hyperdrive
We started as a recession unfolded and as the industry went through seismic changes. As a result, our offering has grown to be far more diverse than maybe we originally planned.

But, ultimately, one of the reasons we started up was to get to enjoy being firmly in the "engine room" together and growing something we love. And that has certainly been our experience. But sometimes it feels like it's all happened in hyperdrive. It's been brilliant, but perhaps we all thought we might be able to savour the experience a little bit more.
Phil Georgiadis
Chairman, Walker Media
The bit you can't predict is ownership – I could never have predicted how we would end up selling.
What you realise when you run your own business is that you have the luxury of time
That's because we could have never predicted the nature of the changes to the media market. What triggered the initial sale of Walker was M&C Saatchi selling.

Also, what you realise when you run your own business is that you have the luxury of time because you don't have reporting lines. It's only when you go back into the corporate world you see how internally focused people are.
Carl Johnson
Founding partner, Anomaly

No-one starts an agency, or should start an agency, without the full expectation and conviction that it will succeed. Part of the very reason for the success is the energy and confidence that belief provides.
Have we created work I'm very proud of? Yes. Are we as good as we would like to be? Not yet
And anyone saying "I'll just give it a go and see how we do" is doomed before they start. I was absolutely certain that Anomaly would succeed – no doubt whatsoever – so to consider anything else is to accept that it is not in your control.

I was fortunate when starting Anomaly to have previously started, grown and sold another agency before – Simons Palmer Clemmow Johnson – where I had learnt an immense amount about the experience. In a way, forewarned was forearmed.

Consequently, the difference between what I expected and what has been realised isn't that significant. I knew we would succeed but "successful" is also a question of degree. Are we a successful international business? Yes. Have we achieved a world-class client roster? Yes. Have we created work I'm very proud of? Yes. Are we as good as we would like to be? Not yet. Are we the greatest agency ever? No.

More interesting are the nuances and the context that surrounds us. I am amazed how slowly the agency world reacts to change – still! I was surprised how quickly major clients gave up the "comfort" of big network resources for the imperative of big ideas, wherever they came from. We knew our enduring commitment to developing our own intellectual property was right but didn't know it would be so painful.
Finally, I knew we would have to work incredibly hard but I didn't expect it to be so much fun.
John Boiler and Glenn Cole
Chief executive and chief creative officer, 72andSunny
It turned out way better than we thought. We assumed we would find a way to do cool work and foster a fun, playground atmosphere. But we didn't expect to have the culture we have today.

When you start out, you expect to control it, even if you don't intend to. You think "this will be our place" and you envision a culture you know how to make. But, over the years, the people who joined 72andSunny made it their own and transformed it – radically, in some cases. But always for the better.
We literally relearn our jobs every day
We didn't plan on learning as much as we've learned. I think we figured we would just practise what we knew. But we literally relearn our jobs every day.

We didn't think we would have to work so hard. We knew we would have to bust our asses. But we didn't expect the intensity, commitment, energy and focus it requires. The reward of 72andSunny is awesome. But it didn't come easy.

The one thing we probably did expect was the strength of our partnership. We knew we would not always agree but we never doubted the bond between us. Our partnership is as solid now as it ever was. And beautiful.