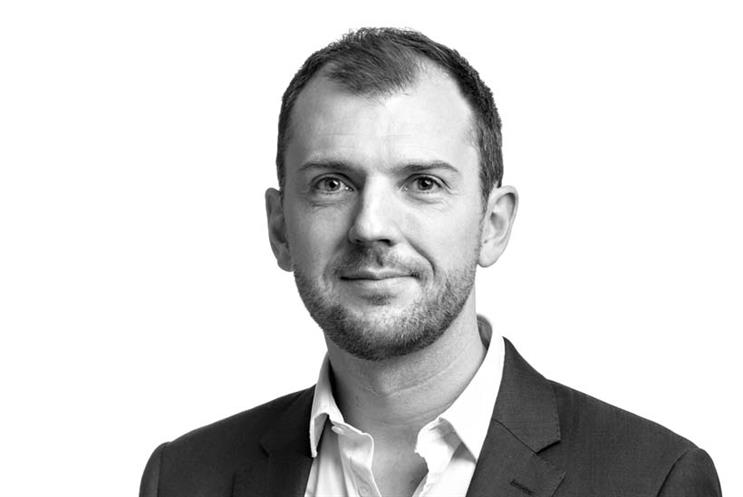 Chris broke into the industry in 2004 "after three months of banging on agency doors and sleeping on a friend's sofa". Since that point, he has risen through the agency ranks via Wunderman, Rapp, Kitcatt Nohr, Partners Andrew Aldridge and CHI before joining Seven Seconds in 2014.
Over the past two years, the Seven Seconds / BBH partnership has welcomed major businesses to the fold including BA, Barclays, Experian, and KFC.
Chris, you've progressed to managing director in fairly record time. Can you share with us some of your secrets to your career trajectory?
There are a few things that stand out for me. I have always gone in with the mentality that if you want to achieve in this industry, you've got to make it for yourself. The moment I felt I was treading water I have moved to a new challenge – internally or externally.
I would urge anyone to make friends with their agency's new business team so that you are the first to hear of any pitches coming in. For example, within two weeks of joining Kitcatt Nohr in 2006 I found out that the Waitrose pitch was about to happen and put my hand up to be on that pitch team. So as 'just' a senior account manager, I found myself in Waitrose's boardroom with the agency's founders. We went on to win the pitch.
There's a great phrase "always run to the fire". Finding projects that have 'car crash' or 'too difficult' written all over them, are often the best opportunities. Your job as an agency person through perseverance and common sense is to turn situations into something better. Oddly I don't think all that many agency staff think like that. But we've got to think like that. We've got to go for the 'difficult' ones because that's when we are most recognised and deliver the most value to our clients.
What's been your best career decision?
Joining the Seven Seconds / BBH partnership. Everything else I have done throughout my career has set me up to be here. The opportunity we have is to help redefine the future of what is one of the best agencies in the world and that is incredibly exciting.
Also, I get to work with people like Simon Hall, Warren Moore and Ben Fennell, who are amongst the best names in the industry. I have been hugely privileged at every stage of my career to work with these types of people: entrepreneurial types who best embody the spirit of agencies and are the people you can learn a lot from.
What are the best lessons you've learned along the way?
Don't trust your gut. Do your research. Do your homework. Control every variable you can so it's not a gamble on the day. Whether it's a pitch or a meeting, or whatever.
In this industry it is absolutely crucial to have trusted, good people on your team. Find them and surround yourself with them. This is not a game where you can be a one-person operator. If you are you will come unstuck.
What project have you been most proud of?
It's not a project as such, but I am proud and fortunate to be working with a great team. I'm working with some very talented and committed people. I'm proud to be a small part of this.
Who inspires you?
Without a doubt, Simon Hall and Warren Moore are tremendously inspiring. They are polar opposites that complement each other perfectly.
I've been incredibly lucky to draw inspiration at other points of my career. Johnny Hornby is an absolute legend. He is incredible at motivating clients and agency peers and as a result creates a strong sense of followership. Marc Nohr's will to win made a great impression on me. His 'train hard, fight easy' approach is something we can all learn from. Vonnie Alexander is probably the best client service person I have ever worked with. Her three principles of openness, honesty and trust nurture great relationships and instil extremely high standards in the people who work with her.
Hindsight is a wonderful thing. What do you wish you had known upon joining the industry?
I don't. This industry has lived up to my expectations. This isn't just a job. It's a passion and a privilege. Even from account exec level, the trust and empowerment you're given and the responsibility can be immense. There's something very human about agencies when they're at their best in allowing people to give of their best.
Life is too short to waste time. If this isn't for you that's fine. This isn't a jail sentence. And if it does feel like that, do something else.
What are some of the key attributes an agency MD needs to make a success of their role?
First and foremost, you've got to love this business. You've got to enjoy understanding the challenges and pressures that face your clients both as people and as organisations. Only through that understanding can you build the trust that will allow you the opportunity to create work that is big and brave.
It's important to keep innovating and not be overwhelmed by the complexity of the world that we're in. The agency model in this sense has not actually changed; our job is still to simplify and to create human communication, albeit in a more complex, fragmented media environment.
For any agency leader, the ability to build a really high calibre, highly entrepreneurial team is critical. Attracting the right talent, nurturing and coaching your team and creating the right environment, is so important.
How do you know you're doing a good job?
A happy agency team, clients who trust you implicitly and a healthy new business pipeline.
Is there anything you would change about the industry?
Sometimes the industry bemoans that we are no longer a respected top-table partner to our clients. It's important to remember that seat at the top-table is hard-earned and should not be taken for granted. I think every generation has to re-earn that right to sit there.
That's exactly what I relish about the team here. We are re-authoring that right to be at the top table because what we do is innovative, compelling and makes a difference to our clients.
How good are you at achieving a work/life balance?
At times I've been really bad at this but I am the best I ever have been. I take the kids to school one day a week and make sure I maximise every working moment – including my commute - in order to get home at a reasonable time and put the phone away.
Ultimately I do this job to provide for my family, the people most important to me. I do need to force myself not to check my phone when I'm on holiday, for example. But if you don't force it then you're not only short changing the people you hold most dear, you're also short-changing your clients and ultimately your career. You need time to detach to come back at it fresh.
Chris Woodward's top 10 career tips:
Make friends with your agency's new business team

Embrace difficult challenges

Surround yourself with good people

Learn from the best in your agency

Train hard, fight easy

Stay accountable and keep yourself in the firing line

Earn your seat at the table. Don't take it for granted

Recharge your batteries.

Put the phone away

Do it because you love it
Emma Love is founding partner of The Great & The Good