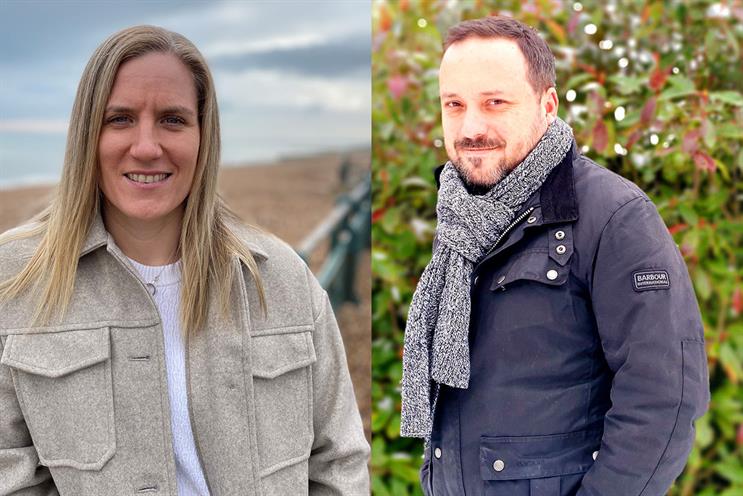 As a 27-strong jury prepares to dig into entries to the 2021 Outdoor Media Awards this Spring, we look at how out of home creativity has not just survived but thrived over the past year. Clear Channel UK's client partnership director Aimee McKay and sales director Mark Smith (above) talk us through what has impressed them in 2020 and what they and fellow judges will be looking for in this year's contest.
Some might argue there's "no point" having an awards event for the outdoor industry this year, because it's irrelevant in a global pandemic, when most of us are indoors. What would you say to them?

Mark Smith, UK sales director, Clear Channel: Surprisingly, I'd have to disagree with them...! The pandemic has driven creativity massively and got brands to think hard about how they communicate to their consumers. We have seen some of the best creative work in out of home in the last year than we've probably seen in the last decade. It's important that we take a minute to recognise all the hard work.

Aimee McKay, client partnership director, Clear Channel: Yes, and this deeper consumer understanding is a result of a huge data revolution in 2020, too. We understand our audiences, and how to reach them, wherever they are, in whatever restrictions, like never before. It was a difficult year, but we progressed as an industry with regard to collaboration, data planning and creativity. It has proved we are a resilient business. We handle a crisis well. We are full of passionate people. Awards are important to reflect on and celebrate that.
So, you're saying that the previous year was an exciting, skill-developing time to work in OOH?
MS: Yes! It was a great time to be a creative because every brand had this enormous challenge: how do we put out a message that is really going to hit home, but be absolutely personal and sensitive to the now? Media planners also had to deal with the fact that the way people spent their time, when outside their homes, changed overnight. Considering how to navigate these changes is exciting because it gives you a challenge you've never faced in your career.

AM: What has been great about 2020, too, is there's been fantastic work from longstanding supporters of the medium who have embraced the tools available and are utilising digital better. But also, we've seen new entrants embrace the medium, from sectors we've not seen before, all of which we want to recognise in the awards this year.
In terms of the work, what kind of campaigns, thinking and approach will you be looking out for in winning entries?

MS: Whereas in the beginning of the awards it was primarily about judging great planning, now we're looking to reward a much wider set of criteria, from effectiveness to creativity. We'll also be looking out for specific achievements which are rewarded in individual categories, such as brands that have used OOH particularly well to complement other channels.

AM: There's so much talent to recognise. Brands that cracked "agile long-term-ism" and super smart data planning. Others that managed to reassure with humour or bring joy through OOH during a really difficult time. Others that used OOH to engender trust and inclusivity. Yet more who leveraged OOH's ability to show a brand's human side getting the tone just right.

To give readers a sense of the calibre of campaign you're looking for, what are your top three OOH campaigns ever?

AM: First is BA's 'The Magic of Flying', which was almost a decade ago now but remains best in class; no other platform could have done what OOH did there. Second, McDonald's: not one particular campaign but its general, huge commitment to the medium and its incorporation of different layers to OOH work. So my first and second were both historic Outdoor Media Awards Grand Prix winners. Third for me is InBev's Corona 'Wave of Waste' campaign to mark World Ocean Day, which highlighted a real issue around marine plastic pollution, using OOH's ability to broadcast and amplify a message and be a platform for good.
MS: Number one for me is last year's Outdoor Media Awards Grand Prix winner, the BBC's one-off 'Dracula' campaign, a creative treatment which could only work in the OOH space and wasn't just visually arresting for those that saw it, but got shared enormously on social media. Another previous winner is my second choice: O2's enormous 'Oops' campaign which used a really creative special build. And third is '56 Black Men' which again proved OOH as a platform for good, getting the public to reconsider their own unconscious bias.
What do you think is particularly unique about the OOH industry?

AM: When a great idea is put on the table, we may not know how to do it, but we'll find a way to make it happen. Like the BA campaign I mentioned, an idea which came to a creative at Ogilvy playing with his kids in the garden and spotting a plane. The OOH response to the idea and vision was, "I don't know how we'll do that, but we'll figure it out". The industry is great at this, and at collaboration.

MS: There is something about putting a message in a public place that creates debate. The BBC's 'Dracula' campaign is a brilliant example. It has helped raise the bar across the industry, across all categories, as a lot of advertisers saw it and are now asking themselves: "what's our version of that?" We are looking forward to reading about their answers in the award entries!
What do you anticipate happening in OOH over the next 12 months?

AM: Audiences are going to bounce back. We saw them bounce back for a period in 2020 when they could and we're expecting a very strong bounce back for OOH again. Everyone is desperate to get out of the storm we're all in and get back into the great outdoors, or the great out of home, I should say…

Is there anything noteworthy or different about this year's awards?

MS: This is our 15th year of running the awards and they have evolved hugely since their inception. Back then, they only had around six judges and 30 entries and a small ceremony to crown the winners in a backroom of a hotel. Now, the awards are a main staple on the OOH, and - increasingly in the past couple of years - the wider media calendar.

AM: Yes, and this year we have 27 judges, including more senior executive representation across the board than ever before. Are there any new categories?

MS: Yes – we've had a 'Rising Star' category for a couple of years now and this year we've added an award to recognise an individual who has made an outstanding contribution to OOH over the longer term, which we felt was really important.

You mentioned an awards ceremony – how do you plan to celebrate this year's awards?

AM: There will definitely be much celebration and fun; we'll have to wait and see exactly what that will look like. We're all social creatures. We miss that face-to-face interaction. It may be a dialled-down version, but the reality is, if we can do an in-person celebration, we will.
The deadline for the free-to-enter awards is March 19th. The shortlist will be announced in May and the winners in June.
The 2021 judges are: 
Aimee McKay, client partnership director, Clear Channel UK
Ali Reed, managing director UK, Essence Global
Dino Myers-Lamptey, founder, The Barber Shop
Emma Withington, head of planning, Manning Gottlieb OMD
Enyi Nwosu, chief strategy officer, Universal McCann
Euan Hudghton, chief brand and experience officer, PHD
Fleur Stoppani, chief client officer, Mindshare
Gen Kobayashi, chief strategy officer, Engine UK
Gideon Spanier, UK editor-in-chief, Campaign
Jonathan Bunkall, head of media, Huawei
Julia Sparrow, consumer experience lead, Mondelez International
Kate Rowlinson, chief executive, MediaCom London
Kevin Morosky, co-founder, POCC
Lee Ramsay, planning partner, McCann London
Liam Mullins, managing partner, the7stars
Marcos Angelides, chief strategy and innovation officer, Spark Foundry
Mark Smith, sales director, Clear Channel UK
Matt Willifer, chief strategy officer, Carat UK
Nana Bempah, founder, POCC
Paddy Affleck, chief executive, Havas Media Group UK & Ireland
Rachel McDonald, ex-managing director, Dentsu International
Rory Behrman, principal, Amazon
Sannah Rogers, managing director, Zenith UK
Sarah Jenkins, managing director, Saatchi & Saatchi
Verra Budimlija, chief strategy officer, Wavemaker UK
Vicky Fox, chief planning officer, OMD UK
Zaid Al-Qassab, chief marketing officer, Channel 4