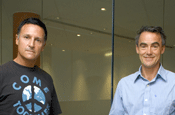 DLKW has just completed its three-year earn-out, fol­lowing its acquisition by Cres­ton in March 2005.
Green and Betts are understood to have made around £1.5 million each in cash and shares as a result of the deal.
Greg Delaney, the DLKW chairman, will now run the creative department.
Green and Betts have worked together for almost 20 years, first meeting at Saatchi & Saatchi in the early 80s.
During their careers, they worked at CDP, BMP and WCRS and became the exec­utive creative directors of McCann Erickson in 1997.
The pair then formed part of the team that bought Dela­ney Fletcher Bozell in January 2000 alongside Mark Lund, Delaney, Tom Knox and Rich­ard Warren.
Since then, they have be­come synonymous with the big, populist, musical ads they created for advertisers such as the AA and Halifax.
Mark Lund, the DLKW chief executive, said: "Gary and Malcolm have been cen­tral to the entrepreneurial spirit that has been at the heart of DLKW.
"There is no doubt that their talent and energy has helped us get to where we are today.
We understand their reasons for moving on and we can't thank them enough for their contribution."