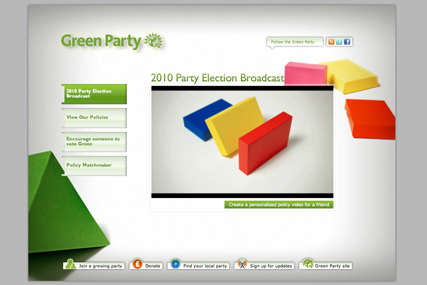 Created by Glue London, the campaign incorporates above-the-line and digital activity, and aims to help the party secure its first Westminster seat.

Work includes a personalised party election broadcast, seeded on the party's campaign website, that encourages supporters of the Green party to become advocates by filling in a few simple details about a friend and creating a bespoke personal video tailored to the issues most important to them.

The friend is then sent the tailored video, which highlights how those issues are relevant to Green Party policies.

The video also outlines how the values of the three main political parties have become increasingly blurred, with each party "now seemingly only separated by the colour of their rosette".

The Green Party states that its policies and approach means that it truly can stand apart from its rivals.

The website also hosts a sharable interactive app called Policy Matchmaker, where users can answer ten simple questions on a range of issues, after which the app produces a score that tells users how closely their views match with those of the Green Party.

Users can then share their scores with others on Facebook or via their mobile.

Mark Cridge, the chief executive of Glue London, said: "Our brief was simple and exciting; ensure voters are aware just how closely the full range of the Green Party's policies actually match up with what voters really believe in.

"We've used the full range of modern digital campaigning techniques to great effect and we look forward to helping bring in the first clutch of Green MP's to Westminster."
Read more on Brand Republic's The red, yellow and blue election blog
Gordon MacMillan on The politics of social media and CLTs (career limiting tweets)
Mark Hanson on Searching for votes: What would Google do?