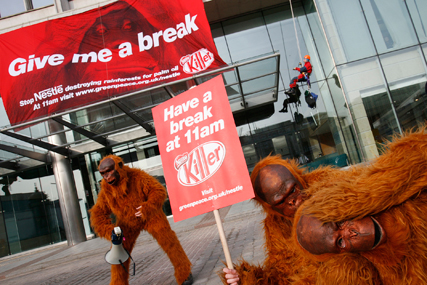 Protesters yesterday descended on Nestlé's Croydon headquarters to highlight a report by Greenpeace that claims the confectionery giant uses palm oil from Sinar Mas Group, the biggest and most destructive palm oil producer.
Greenpeace says the palm oil from the supplier was used in Nestlé products such Kit Kat, and the brand was therefore involved in destroying the rainforest and endangering orangutans.
However Nestlé has hit back at the claims in a statement outlining that it does not use palm oil from the Sinar Mas Group for any of its products, including Kit Kat.
The statement said: "Nestlé recently undertook a detailed review of its supply chain to establish the source of its palm oil supplies, and we have made a commitment to using only 'certified sustainable palm oil' by 2015, when sufficient quantities should be available."
Greenpeace, however, has posted a graphic viral video on its website that shows an office worker opening a Kit Kat, but biting into an orangutan's finger before smearing the blood across his face. The text on screen reads: "Have a break? Give the orangutan a break."
The video posted on YouTube was believed to have been taken down by the charity after Nestlé complained the ad infringed its copyright.