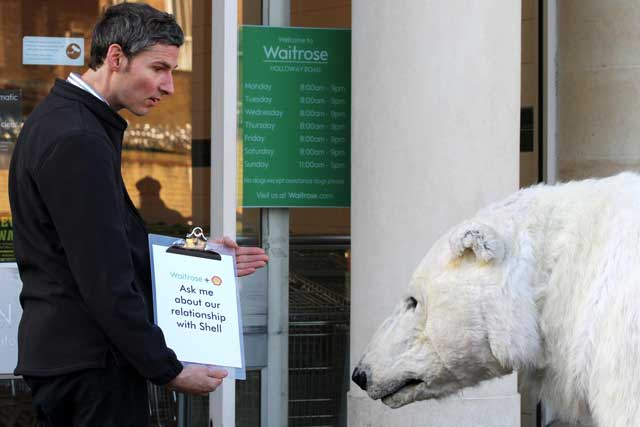 Waitrose's pilot scheme with the oil giant has opened two Waitrose outlets within Shell petrol stations, with plans to expand the partnership to more sites across the UK.
However, after 10 days of campaigning, Greenpeace said Mark Price, Waitrose's managing director, confirmed the supermarket has no plans to extend the partnership beyond the current pilot scheme next year and no financial provisions for this have been put in place.
Greenpeace's #DumpShell campaign repurposed Waitrose's Christmas ad featuring brand ambassadors Delia Smith and Heston Blumenthal, to highlight the supermarket's ties with Shell.
Greenpeace staged a series of demonstrations in Waitrose stores this week and has collected 40,000 signatures for its petition in the space of 10 days.
Waitrose has since declared its support for the creation of an Arctic sanctuary under the aegis of the United Nations.
Greenpeace campaigner Sara Ayech said: "Greenpeace wholeheartedly welcomes Waitrose's support for the creation of an Arctic sanctuary, and many ethically-minded customers will be relieved to hear the company has put the brakes on its partnership with environment villain Shell.
"Waitrose's move sends a powerful signal to other major brands that a wad of oil-drenched cash from Arctic drillers like Shell comes with a hidden price tag in terms of reputational costs.
"Shell is desperate to greenwash its soiled brand in the cleaner waters of reputable companies, but the thought of the incalculable damage wreaked by an oil spill in the pristine Arctic environment should be enough to make prospective partners think twice."
Waitrose declined to comment when contacted, while Shell has issued a statement claiming it is open to a debate.
A Shell spokesman said: "We have a relationship with Waitrose at 15 retail sites in the UK. Shell is committed to a safe and environmentally responsible exploration program in Alaska.
"Shell encourages constructive engagement and debate on this and other issues but we would not comment on our partners' views."
Follow @loullamae_es