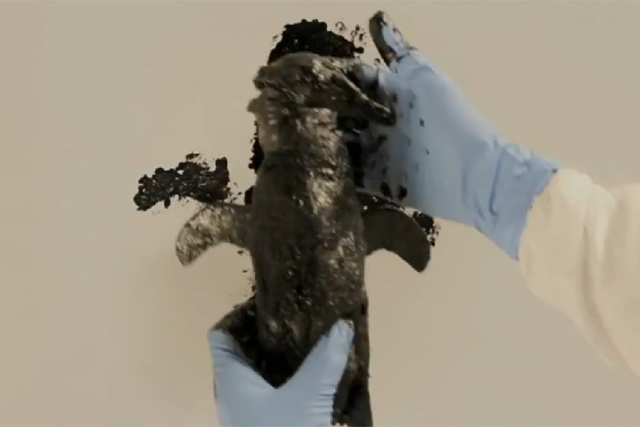 The campaign follows the New Zealand government opening its waters to foreign oil companies for deep-seal oil prospecting.
Oil canvases, posters and a online video feature birds killed by the MV Rena cargo ship which ran aground in October last year, spilling 350 tonnes of oil into the Bay of Plenty, killing 20,000 birds.
Created by Mojo Auckland, each print is an original, made using actual birds and oil from Rena as a memorial and a warning against a much greater catastrophe. Prints and posters were also displayed in a pop up gallery for an 'oil on canvas' exhibition.
The price of entry was to sign a petition to stop all plans to open up NZ's coastal waters to offshore oil drilling and stop any expansion of coal mining in the country.
An online ad uses images of the prints to Radiohead's 'No Surprises'. Greenpeace is also sending out individual direct marketing packs with sealed oil prints to celebrities.
The executive creative director was Mike Barnwell and the creative director was Lachlan McPherson, who worked with writers and art directors, Barnwell and Guy Denniston.
James Solomon directed the ad. The production company was Flying Fish.