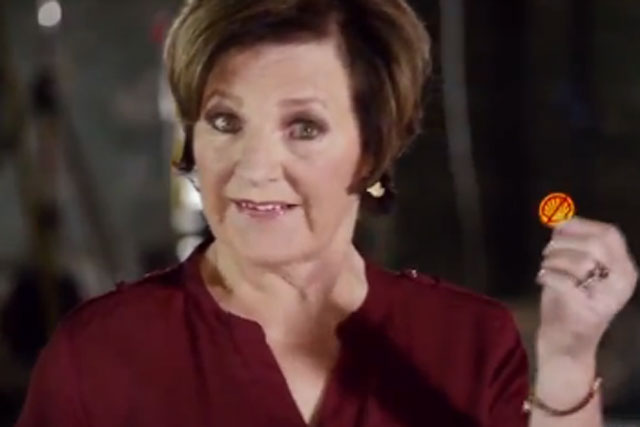 The environmental campaign group claims that Waitrose is considering plans to open shops in Shell petrol stations, and are already trialling two stores.
The ad, which has been created by a group called The Agents of Intervention, takes Waitrose's current campaign featuring brand ambassadors Delia Smith and Heston Blumenthal demonstrating the supermarket's charitable donations, and replaces their voices to send out a new message.
The new voiceover sees Smith and Blumenthal state the following: "But Waitrose don't ask you about everything. Like our partnership with Shell, who are drilling for oil in the Arctic. We know our customers care about the environment, so we've kept it hush-hush that we've buddied up with these Arctic drillers. But let's face it, the Arctic's for life, not just Christmas."
The original ad, created by Bartle Bogle Hegarty, tells consumers that instead of making a "fancy TV advert", Waitrose will donate the money saved as an additional £1m to good causes through its Community Matters green token scheme.
In the sabotaged ad, the green tokens have been changed to yellow tokens bearing the Shell logo with a line crossed through it.
It ends with the words, "So we're going to give you a say. So drop enough of these [tokens]. And Waitrose will drop Shell." The pair then laugh, saying, "As if that will happen."
Greenpeace, which made a similar move with a spoof Shell website earlier this year, will be targeting "dozens" of Waitrose stores today as part of the campaign, claiming that the supermarket's tie-up with Shell "severely undermines its green image".
Sara Ayech, Greenpeace campaigner, said: "Waitrose customers will be shocked to hear that their favourite supermarket has entered into a business partnership with the environmental villain Shell, who is planning to drill for oil in the fragile and pristine Arctic.
"Waitrose trades on its caring, green image. It's going to lose that carefully nurtured look very soon, unless they drop Shell."
A Waitrose spokeswoman said: "We put as much thought and careful consideration into our relationships with other businesses as into everything we do. Having said that, in the context of Shell worldwide, the arrangement we have with them is small. Unlike our supermarket competitors, who have substantial petrol operations, Waitrose has chosen to get out of the fuel business."

"The scale of our involvement with Shell amounts simply to their operating the 13 existing petrol stations next to our branches and our selling Waitrose products in two Shell forecourts. We offer fuel promotions with Shell and vouchers to spend at Waitrose are one of the rewards offered by the Shell Drivers' Club."
Follow @loullamae_es