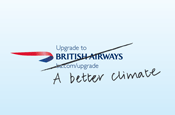 The Independent refused to carry the environmental charity's press ad, which turns BA's own strapline against the company, and other newspapers only agreed to run the ad on the basis that Greenpeace would accept full legal responsibility.
The ads run in The Guardian and The Telegraph today and amend the line 'Upgrade to BA' to 'Upgrade to a better climate'.
Copy extols the benefits of rail travel while criticising BA's claims to have reduced its fuel efficiency when its CO2 emissions are alleged to have leapt by 50 per cent since 1990 due to increased traffic.