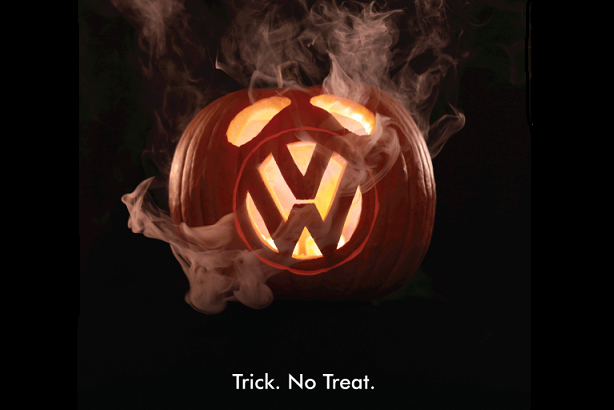 The advert will appear in the Independent and Guardian newspapers tomorrow. It features a smoke-belching pumpkin decorated with a cut-out VW logo above the words, "TRICK. NO TREAT."

It asks the public to join a campaign to demand a mass-market electric car that families can afford, which would be VW's contribution to solving what Greenpeace calls the crisis of air pollution. The campaign is also being publicised via Twitter and Facebook.
We've all been tricked by the VW scandal. Don't you think we deserve a #VWTreat? https://t.co/hiq8vcwcU4 pic.twitter.com/eektMoD4RQ

— Greenpeace UK (@GreenpeaceUK) October 30, 2015

Areeba Hamid, Greenpeace campaigner, said: "This advert is the opening shot in a new push against toxic air pollution.
"A few years ago we built a massive campaign to get VW to commit to lower vehicle emissions.
"It caved and agreed to support our demands. But what it did next is beyond the pale. It deliberately deceived us all by installing defeat devices in its cars.
"It knowingly put people's health at risk. That made it the first target of our campaign, and we want a bit more than an apology."
This campaign is the latest in a line of high-profile brand attacks by the environmental organisation. Last year Lego ended its relationship with Shell after Greenpeace's pressure campaign, which generated one million signatures to a petition calling on Lego to stop promoting Shell's brand because of the oil firm's plans to drill in the Arctic.
Volkswagen's UK press team declined to comment.
The Volkswagen Group UK PR team saw changes before the emissions scandal broke, with Paul Buckett being promoted to a more senior role in an attempt to shorten the lines of communication between the UK importer and the parent company in Wolfsburg, Germany.
The global group has since taken on a new comms chief.