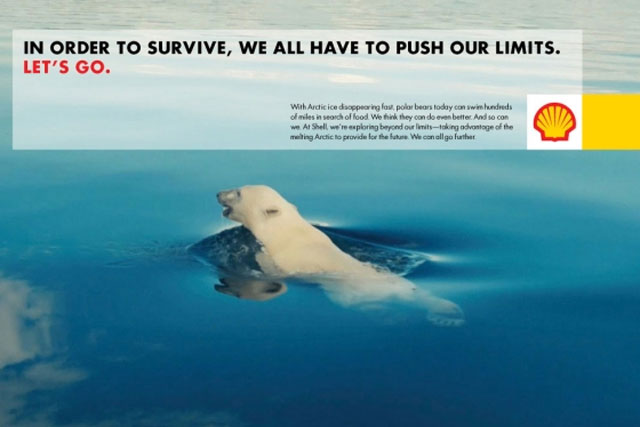 Greenpeace activists temporarily shut down 78 Shell petrol stations in London and Edinburgh this week in direct protest against Shell's moves to drill for oil in the Arctic.
The protests saw Shell's stations covered in posters stating "Save the Arctic," and resulted in 24 arrests overall.
Greenpeace spokesman James Turner told Campaign that the activity has led to the biggest spike in the charity's traffic for its spoof site, arcticready.com.
The site has been live for a month and asks consumers to submit their own straplines against images of the Arctic, using Shell's current "Let's go" strapline and branding.
Turner said: "The direct actions against Shell have rebooted this site in the past 72-hours, which has had over one million page views, the biggest spike for this site's traffic."
The campaign, created in partnership with the Yes Men, uses straplines such as "Made in S-hell" and "Energy independence? We're getting warmer" and was publicised across social media with the hashtag #shellfail.
Turner said all the facts held on the spoof site, which also links through to Shell's official site, are true, but that Greenpeace has taken Shell's existing drilling campaign and used the "let's go" strapline with humour.
A spokesperson for Shell said the company had no plans to change its advertising strategy or current campaign.
A Shell spokesman said: "Shell recognises that certain organisations are opposed to our exploration program offshore Alaska, and we respect the right of individuals and organisations to engage in a free and frank exchange of views about our operations.
"Recognising the right of individuals to express their point of view, we only ask that they do so with their safety and the safety of others, including the general public and Shell personnel, in mind.
"Shell has met with numerous organisations and individuals who oppose drilling offshore Alaska. We respect their views and value the dialogue. We have extended this same offer for productive dialogue to Greenpeace."
Last month, Greenpeace created an ad in 24-hours with the help of Borkowski.do and BMB, as part of its work to prevent Shell drilling in the Arctic.
The campaign has been backed by high-profile figures including Sir Richard Branson, Sir Paul McCartney, Penelope Cruz, Robert Redford, One Direction, Alexandra Burke and Jarvis Cocker.
Follow @loullamae_es