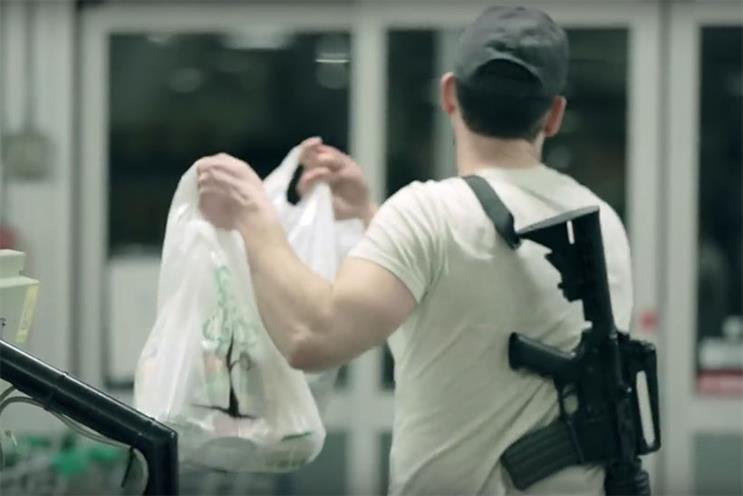 The "Groceries not Guns" campaign by Grey Canada for Moms Demand Action for Gun Sense in America took the top honor — the Grand Effie — at the 48th Annual North American Effie Awards Gala Thursday night at Cipriani in Manhattan. Each year, the Effies recognize the most effective ad agencies, brands and advertising campaigns.
The grocery chain Kroger allows patrons to carry firearms openly in states where it is legal for them to do so. The campaign contrasted those weapons with other, less dangerous objects that are banned in Kroger stores, like pets, squirt guns, skateboards and ice cream cones.
Rather than target politicians and government regulators, "Groceries Not Guns" focused on businesses. "The Grand Effie winner had an ambitious goal to influence legislation by strategically going after corporate America," said Grand Effie jury member Carla Serrano, CEO at Publicis New York. "There's a lot to learn about how this case reframed the gun control debate and galvanized a million moms in an effective way."
While Kroger's policy remains in effect, many other retailers banned open carry firearms in their stores, creating "an explosion of awareness, public engagement and policy changes, resulting in 15,763 no-carry zones frequented by over 7 million Americans each day," according to the winning entry.
In addition to the Grand Effie, Procter and Gamble was named North America's most effective marketer for the sixth year in a row. Effie Index rankings for North America were released at the end of the gala, revealing that CVS Health, truth and Walmart tied for most effective brand, WPP was the most effective holding company, Ogilvy & Mather was the most effective agency network, Ogilvy & Mather New York was the most effective agency office and Heat was the most effective independent agency.
"Groceries not Guns" beat out six other finalists, each a top-scoring Gold Effie winner: "In Support of New Moms" for Similac by Publicis North America, "Cigarettes Out. Health In" for CVS Health by BBDO New York, "Chew University" for Gerber by Ogilvy & Mather and Terri & Sandy, the FLONASE Allergy Relief OTC Launch for GlaxoSmithKline by Epsilon, "Breakfast Defector from the Routine Republic" for Taco Bell by Deutsch LA and "Love Your Skin" for CVS for brands Dove, Vaseline and Simple by Unilever and Team Unilever Shopper.
In addition to Serrano, the Grand Effie jury included Kasha Cacy, President at UM US; Wendy Clark, CEO at DDB North America; Chris Curtin, chief brand and innovation marketing officer at Visa; Mélanie Dunn, president and CEO at Cossette Canada; Michael J. Fanuele, CCO at General Mills; Ram Krishnan, SVP and general manager at PepsiCo; Duncan Milner, CCO at TBWA\Media Arts Lab; Lisa Sepulveda, chief client officer at Edelman; Mark L. Walker, SVP at Disney consumer products and interactive media; Todd Waterbury, CCO at Target; and Rodney Williams, CMO & EVP at Moët Hennessy North America.