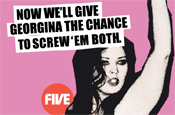 The ad will appear for today only in the The Sun, Metro, The Guardian, Daily Express and thelondonpaper.

It is a graphically styled single-page ad featuring a picture of Georgina Baillie, the woman at the centre of the furore, and the line: "Now we'll give Georgina the chance to screw them both."

Airing at 10pm tonight, the programme is a one-hour documentary examining the impact of the controversy surrounding Russell Brand and Jonathan Ross.

A furore blew up following their decision to leave explicit voicemail messages on the answerphone of Baillie's grandfather, Andrew Sachs, best known for playing Manuel in Fawlty Towers.

Tonight's documentary will also have previously unseen footage of the Satanic Sluts, a dance troupe that Baillie is involved in.


Credits

Title
Georgina screws 'em both
Client
Carl Ratcliff, director of brand strategy and marketing
Creative agency
Grey London
Creative director
Andy Amadeo
Associate creative director
Nils Leonard
Planning team
Neil Hourston, Nick Hirst
Media agency
Vizeum
Media planners
Richard Friar, Nigel Kwan