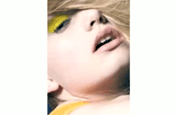 The spot, which launches on Monday, is a flickering montage of summer fashion items, including handbags, sunglasses and eyeliner.
The strapline is: "Have it all."
The ad, which is designed to reinforce Look's market position as an authority on high-street fashion, is the first in a number of campaigns Grey will develop for the magazine throughout 2008.
CreditsProject:
So much life. So little time
Client:
Tara Steadman, senior marketing manager, Look
Brief:
Establish Look as the authority on high-street fashion and drive sales of the magazine
Creative agency:
Grey London
Writer:
Grey London
Art director:
Grey London
Planner:
Neil Hourston
Media agency:
MediaCom
Media planner:
MediaCom
Media spend:
n/a
Production company:
Rosco Productions
Director:
n/a
Editor:
Richard Bardsley
Post-production:
UNIT
Audio post-production:
UNIT
Exposure:
TV