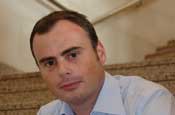 Grey has already offered the role to the high profile Sony marketer, but he is also one of three candidates shortlisted for the Saatchis job.
Grace Blue, the new headhunting firm set up by Gay Haines, is understood to be behind both placements.
The position at Grey became available in January this year when the former chief executive, Tamara Ingram, vacated the post to take leadership of the $1 billion global Procter and Gamble business.
The Saatchis job came up for grabs a month later when Lee Daly, the chairman and chief executive, departed the agency to become the global commercial director at Manchester United Football Club.
Patton is famed for being particularly sensitive to the creative process and was the client behind the lauded "balls" ad for Sony Bravia. He also sanctioned "mountain", the Sony PlayStation ad created by TBWA\London that picked up the Grand Prix at Cannes in 2003.
Patton first joined Sony in 1995 as the vice president of marketing for Sony Computer Entertainment.
In March 2004 he was promoted to his current role, which saw him become solely responsible for the PlayStation brand across Europe. Since then, his remit has expanded to include all of Sony's products across the continent.
He began his marketing career in 1991 when he joined Nintendo, one of Sony's main competitors in the console market.
Both Saatchis and Grey refused to comment. Patton was unreachable at the time of going to press.