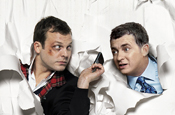 The new six-part series, which is due to air from early February, will star ex-Eastender Shane Richie as Archie Daley, the nephew of 80s wheeler dealer Arthur Daley.
His bodyguard is played by newcomer Lex Shrapnel.

Nils Leonard, the associate creative director at Grey London, said: "Thank god Five has brought Minder back as an antidote to the daily hammering of depressing economic news."
The campaign consists of 48-sheet posters at national rail and London Underground stations, as well as radio advertising, press executions, taxi wraps, beermats, phone-box wraps and a word of mouth and advocacy campaign.
Each of the posters presents the two lead Minder characters in humorous situations relevant to each of the media.
The two Minder protagonists appear to have been pasted over on the billboards, and on the phone-box wraps they are tied up inside. The taxi wraps show them clutching on to the sides of the taxi.



Credits
Project
Minder - Same old London. Brand new Minder.
Client
Carl Ratcliff, Head of marketing and brand strategy, Five
Brief
To promote the new-look series of iconic 80's TV series Minder.
Creative agency
Grey London
Media agency
Vizeum
Media planner
Richard Friar & Nigel Kwan