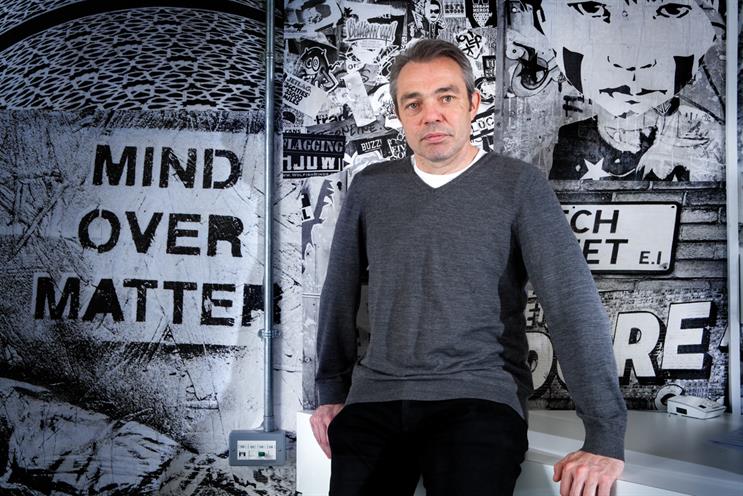 The return of Greg Grimmer to agency land as Fetch's global chief operating officer marks the next chapter for one of the liveliest characters in media.
Co-founding Hurrell Moseley Dawson & Grimmer at the end of 2007, just before the economy fell off a cliff, was always going to be a challenge. But the shop's struggles were in cruel contrast to the phenomenal growth of another start-up of the same vintage: Adam & Eve.
Now part of DDB, James Murphy's agency is arguably the most successful shop of the past decade. Back in early 2009, the two agencies – along with MCBD – went head to head in a pitch for a retail client that, in hindsight, proved a turning point: John Lewis.
Grimmer says: "We were on a rooftop in Cannes last summer and James said: 'In a parallel universe, HMDG would have been the hotshop around town.' The agency really kicked on from that John Lewis win."
He declines to say how much he got for selling his stake in HMDG (now Enter), but it is believed to have been enough to pay off his mortgage and children's school fees – though not enough to retire on. "Put it this way: I bought a push bike, not a yacht," he says. "But it is a very nice bike."
Since March 2013, Grimmer has taken on consultancy projects for some large media owners, including Bauer, JCDecaux, Global Radio and, most recently, Vevo.
Those close to the 48-year-old during the past year paint a picture of a self-assured, slightly bombastic man who can dazzle, inspire and baffle in equal measure.
The famously loquacious Grimmer had risked becoming all too relaxed as the boundaries between networking and partying in Soho House frayed into oblivion. But the media world needs charisma – now more than ever – and Grimmer on form still oozes it.
Alistair MacCallum, the managing director of M2M who worked with him at HMDG for the launch of Condé Nast's technology magazine Wired, says: "We all know he's a bit of an old media tart. He knows everyone and is always out and about. But he's always had naturally strong insight. He once gave me some good advice that was instrumental in my decision to leave UM for M2M."
Grimmer spent much of his formative years moving around the south of England. The son of two entrepreneurs, he learnt from an early age about the highs and lows of establishing your own business – having significant wealth one minute and almost nothing the next. The experience did not put him off.
"It was always something I wanted to do," he says. "I had nearly done it three times earlier, but always had a personal excuse. When the opportunity to form HMDG came, my wife quite rightly said: 'If you don't do it now, you never will.' I'm delighted I did."
His 20 years' agency experience, coupled with his insight and straight-talking, made him a valuable gun for hire after HMDG, but he says he knew where he wanted to land: "I always wanted my next role to be global and digital. Fetch ticked both boxes."
Launched in 2009 as one of the first dedicated mobile advertising agencies in the UK, it's fair to say less is known about Fetch than Grimmer. Its co-founder James Connelly was one of Media Week's 30 Under 30 in 2011.
Fetch's mission to provide "best-in-class strategy, creative, design and media services surrounding mobile and tablet devices" is clearly of the moment. ZenithOptimedia estimates that global spend on mobile hit £8.08 billion in 2013 and will balloon to £27 billion by 2016.
We are experts in mobile. If every media agency now has a mobile specialist, we have mobile experts
Fetch is ambitious and has experienced triple-digit annual growth rates since its inception. Last year, its team of 70 generated around $50 million in revenue and it is hoping to surpass the $100 million mark this year.
London is Fetch's biggest market with about 45 staff, but it also has offices in San Francisco and Berlin, as well as plans for Asia. Grimmer's initial focus is on staffing up these operations with country managers. Together, they service an enviable and growing client base that includes eBay, Supercell, StubHub and Hotels.com.
Grimmer says the portfolio is telling: "When Fetch works with eBay, mobile is critical to its business success. Whereas, if you are the head of mobile at a big media agency, then your job is to educate the agency's big client, whether they want to invest in mobile or not."
But with the larger agency networks now taking mobile seriously, can Fetch – along with other leading specialists such as M&C Saatchi Mobile and InMobi – sustain the momentum gained from first-mover advantage?
"We are experts in mobile," Grimmer says. "Not about phones, but the mobile economy. If every media agency now has a mobile specialist, we have mobile experts."
Fetch's specialisms include app store optimisation and in-app video, as well as analytics and performance media. The shop has campaigns running in 72 markets and, Grimmer assures, is "the most-awarded mobile agency on the planet".
"I'm adding some grey hair to the business," he says. "The people here are inquisitive, inspiring and ambitious. It's a great opportunity."