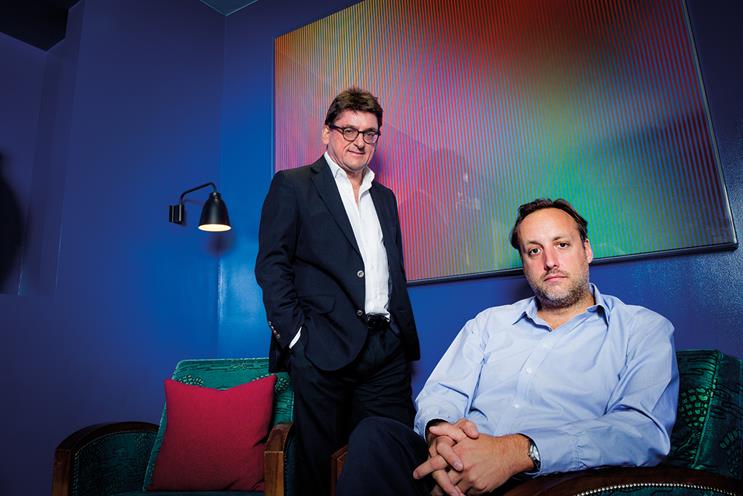 Matt Hobbs' first job was to cut the bread at The Ivy in 1994.
The Ivy had been transformed by Jeremy King and Chris Corbin in 1990 from a convenient restaurant for the (very) occasional passing actor into the convening place for London's most influential advertising, publishing, media and art dramatis personae. Sitting at your table in those times, you would have been struck by the breadth and number of talented people in the room.
But you would not have noticed Matt.
Almost a decade before this, in 1985, an eclectic group of irritated and far-sighted publishers, writers, restaurateurs and victuallers got together to create the kind of club that had not yet existed in London: one where women would be admitted and where a dark suit and tie was not a requirement for entry.
They found a rotting former restaurant on Dean Street, Gennaro's, and sought funds from like-minded mates to buy the building. It's not easy to find investors to fund a club. Especially one that does not yet exist. The business model is only ever spectacularly bad or spectacularly good. And it is usually the former.
Luckily, they happened upon four prominent Hollywood visitors dining together on the eve of the deadline. Paul Simon, Mike Nichols, Steve Martin and Lorne Michaels were persuaded to part with £10,000 each and the building was bought.
For the next 20 years, The Groucho Club was the birthplace of innumerable great ideas – Comic Relief said to be one – and the scene of probably even more memorable nights out, at least until the following morning. As a business, it sometimes did well, sometimes badly, but that wasn't the point – it was always there as a Soho sanctuary for its members.
The recessionary years after 2007, however, were not great and the club's owner, Graphite Capital, found Matt in 2010 and gave him the role of managing director. This time, Matt was easier to spot. He had moved to New York in 2001 to open the restaurant at Soho House New York for Nick Jones.
Returning to London in 2007, he opened Scott's. That huge success saw him promoted to run the Birley Group of clubs, such as Annabel's, Mark's Club, Harry's Bar and George. All of those great venues were intimate with the advertising influencers of the time.
There is only one secret to the success of the club: the eclectic mix of interesting people you will meet
With Matt in charge, The Groucho Club has been restored to momentum and growth in the past five years. The economics are good, but the crowd there is even better. This year marks the club's 30th anniversary and there is an exuberant book of often laugh-out-loud anecdotes and photographs that has just been published.
But while the recovery was strong, it was not strong enough to fund Matt's ambition for the club – that it should open in America. It was with this in mind that we sat down to make a plan to stage a management buyout.
Like the original founders before us, we wanted a like-minded group of investors – ideally, members or potential members who would bring both the treasure and the talent we needed to successfully execute the plan.
It took us a couple of years, but we finally assembled a dinner party-sized room of people who have backed us to buy the business and fund the launch of the club's next two locations.
In London, The Groucho Club's food is lovely and drinks expertly made. There are two restaurants, four bars, a new screening room, great meeting rooms and 20 bedrooms for when the club makes you want to rest. Millions of pounds have been spent on recent refurbishments but never at the risk of obscuring the view of the club's impressive art collection, donated thus far by people in return for membership.
But there is only one secret to the success of the club, and it is one that will be preserved at all costs: the eclectic mix of interesting people you will meet there. And how is this maintained? By the famous committee, which argues hard, every single month, about which applicants will be admitted. There is a feeling of church and state about it – the committee doesn't give a fig about whether a new member will increase the profits of the club. They know their role is to keep the members entertained.
Scarcity is also a key tenet of the club. We will never be the biggest; we will always be smaller, more private and more intimate than any rival.
Matt has always had a fondness for advertising folk. We have always been a prominent cadre in every business that he has been involved in. The Groucho Club committee was even chaired by a Delaney back in the day. In recent times, though, the advertising people have become outnumbered by artists, actors, DJs, broadcasters and, as ever, writers and publishers.
But now, more than ever, it looks like we are welcomed back at The Groucho Club. There is drink, there is food and there are fascinating folk to share ideas with. And, next year, all being well, there will be a new Groucho Club in New York.
Nick Hurrell is the managing partner at George & Dragon and chairman of The Groucho Club