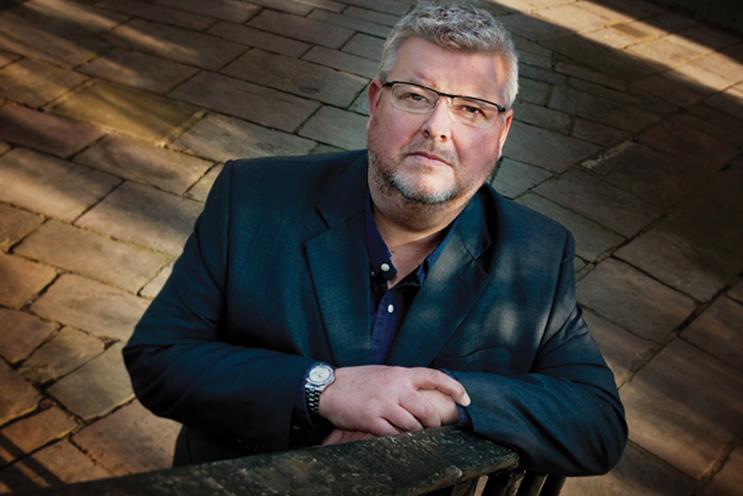 It is not often people talk about their boss with the enthusiasm of a religious experience. But that is how Andy Jones, the newly appointed UK and Ireland chief executive of IPG Mediabrands, talks about his.
The entrance of the former ITV and Barclays marketing director Jim Hytner into his life clearly had a profound effect in 2009. After 24 years at Universal McCann, and six years running the agency, Jones had become a little disillusioned.
"He just gave me such a massive lift," Jones admits. "It transformed everything for me – and for us as the agency. He's a fucking inspiration. He made a huge difference to me personally, and that's what has kept me going for the past three or four years." The warmth with which Jones speaks of Hytner is touching, especially as he is known for his dry sense of humour.
IPG Mediabrands has had a number of unfathomable restructures in recent years. Jones' new role is part of recent changes that, by comparison, are easier to understand. The rejig brings the media agencies UM and Initiative closer to divisions such as the outdoor agency Rapport, the barter company Orion and its newer businesses, such as the search specialist Reprise Media.
Jones reports to Hytner, now the chief executive of IPG Mediabrands across the G14 region of the major markets outside the US. Jones' promotion has coincided with the departure of Initiative's chief executive, Alex Altman. Altman is thought to have dropped out of the recruitment process for the group chief executive role early on and negotiated his exit. Yet sources say he could have been on his way out anyway.
Although the cerebral Altman is well regarded (including by Hytner), the final six months of his tenure was plagued by rumours about his relationship with Tesco. No-one involved will be drawn on Altman's handling of the Tesco business. Yet there was obviously a problem, as Hytner moved Altman off the UK account in autumn last year.
However, Tesco is not the only issue the agency has. To be fair to Altman, he had to work with four different bosses and almost as many repositionings during his tenure. A period of stability would be welcome to afford Jones and the energetic managing director, Anna Watkins, the chance to make a difference.
Over at UM, Jones says the promotion of Russell Place, the chief strategy officer, to the position of managing director is "probably well overdue". UM is in a better place than Initiative: it has won a number of awards and 100 per cent of its staff said they were proud to work there in a recent poll. Moreover, its profitability is said to stand up against any in the global network. Yet, like Initiative, it remains a smaller agency in a competitive and increasingly consolidated market.
He [Hytner] made a huge difference to me, and that's what has kept me going for the past three or four years
There is precedent for Jones' role, and bringing businesses together under a single leader seems to have worked elsewhere in the industry. In fact, Interpublic was the only holding group without an overall media chief.
"We needed to do it," Jones says. "It's quite simple. The businesses in media and communications are in a constant state of expansion and change. That's what it's like now. We can't sit still any more. Unless someone's running it, it becomes a box of frogs."
Jones' promotion is testament to 28 years of hard work. A clever man who was once wrongly pigeonholed as a TV trader, Jones is probably a better group chief executive because of his wobbles in confidence along the way.
"He is a good operator, straight talking and a smart negotiator," Kelly Williams, a group commercial sales director at ITV, says. "He is incredibly experienced with a very grounded perspective on the industry."
His performance at UM London has even managed to breach the 100-year rivalry between Manchester United and Liverpool. "Andy has a tremendous track record," the Mancunian Hytner explains. "He is a great leader and has a brilliant relationship with clients, which manifests itself as a great commercial success for our company. He only has one thing against him, and that is that he is a Liverpool fan."
In his younger days, Jones is said to have been the spitting image of David Bowie. He may no longer look anything like the Thin White Duke, but would no doubt be more optimistic than the singer if asked: "Where are we now?" He has a new group role, much goodwill behind him and an inspirational boss. All will stand him in good stead as IPG Mediabrands aims to compete against its bigger rivals.