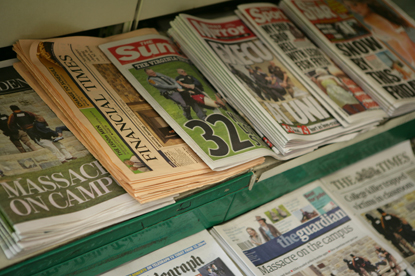 The newspaper industry will see ad revenue fall by 26 per cent year on year in 2009, the WPP-owned media buying operation predicts, a figure revised down from its March forecast of a 20 per cent drop.

Group M is expecting that national newspapers' ad revenue will be down 18.6 per cent year on year for 2009 and the regional newspaper industry is expected to fall 32 per cent.

The consumer magazine ad market will be down 20 per cent year on year for 2009, a downward revision from 16 per cent in March and 9 per cent in December.

Group M has retained its March prediction for the UK TV market of a 14 per cent drop across 2009, but voiced concern over broadcasters such as Five, which has suffered steep ad revenue declines.

Big players in the national newspaper market such as News International and Associated Newspapers will put pressure on weaker players, Group M has predicted.

The report said: "Weaker titles have greater need of cash today than yield tomorrow, so these are the ones making the greatest concessions. Weaker titles are less able to deal with other adversity like paper prices (up about a quarter since sterling's slide), amortising plant investment, and to finance digital diversity.

"The strong therefore get stronger. In national newspapers, this means News International and Associated [Newspapers]. Both have circled their wagons by consolidating their sales forces to negotiate harder."