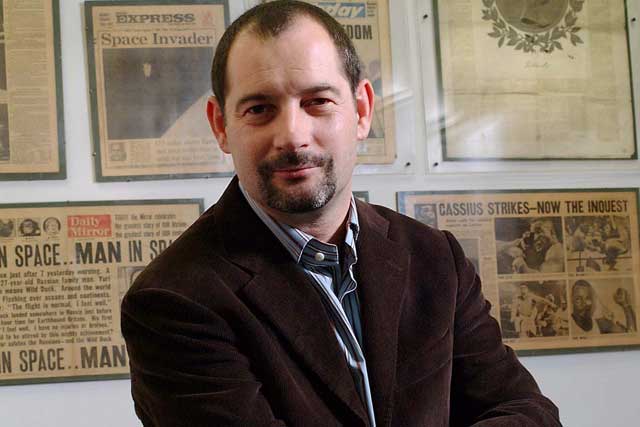 When we finally get the message that Rob Norman is waiting patiently - not to say expectantly - for our call, due to a mix-up with his colleagues in London, we half suspect that we've missed a perfectly good opportunity to speak to the man. Which would be rather bothersome - as, from experience, we know he can be hard to pin down.
But, no - he picks up after two rings. Predictably, perhaps, he sounds rather disgruntled, because he's actually in the midst of his own epic saga of missed connections (he'd rather not talk about it, but he does - just a bit) involving three cancelled flights and an overnight stay at the DoubleTree Hotel next to Richmond International Airport, which, he assures us, is even less glamorous than it sounds. As it happens, it sounds a bit like an on-the-road location for that Sopranos episode where Tony and Paulie go to Florida.
He's currently waiting on standby for a fourth flight and we have 18 minutes before (cross fingers) he's called. Happily, he doesn't sound grumpy for long; and, equally fortuitously, 18 minutes is a rather decent timespan in the Norman universe.
As always, he talks rapidly, in long, open-ended, eternally evolving paragraphs that develop their own inexorable momentum, catching his breath now and then with a sniff. And you can instantly tell that, whatever else has happened to Norman over the years, he's lost not one iota of enthusiasm for the business - and, in particular, its digital manifestations.
Which is just as well, really. For, in some senses, his latest promotion finds him returning somewhat to his digital roots. In January 2010, in addition to his existing role as global chief executive of Group M Interaction, Norman was handed the job of chief executive, Group M North America. It was, in some senses, an interim measure forced by the retirement of Marc Goldstein from the latter function - and the combination of these two huge areas of responsibility was never a long-term option.
Last week's announcements, which saw Maxus' global chief executive, Kelly Clark, moving up into the North America chief executive role and Norman's promotion to Group M chief digital officer, represents a more sustainable deployment of resources. Norman will continue to be located in New York, and the handover of North American responsibilities to Clark is due to be achieved by October.
Norman's new job title is a reflection of the speed at which the digital market continues to grow. Structurally, the digital brief remains as it has always been under Norman - plugging gaps, either at individual agency level or on a networked basis; overseeing transfer of best practice and thought leadership; and ensuring that the group is "optimising its inventory" and getting best-in-industry value from its trading arrangements.
There continues to be a forward-looking aspect to the job, too. "All of Group M's clients operate at scale," he explains, "so they need to sell many units of things to large populations. We need to look at innovations and anticipate how they will scale - and how they will affect the vehicles that make use of these innovations."
And presumably (we almost shrink from asking this, given his Richmond departure lounge limbo) the role will involve even more travel. Perhaps a little, he suggests - but within reason. "I don't want to travel for the sake of travelling," he states. "But the airlines might experience a slight uptake in business from me."
On the one hand, appropriately enough for a technology evangelist, he's going to make maximum use of the teleconferencing products of one of his clients, AT&T; but on the other hand, he says, you can't undervalue the serendipitous sorts of meetings that happen when you turn up in person.
And, he adds, there's no better way of garnering insights into the ways that people interact with technology than by sitting on public transport systems in the world's most vital cities. He recommends a trip on the 250mph Maglev train in Shanghai and a quick spin on the MRT in Singapore or Seoul's Metropolitan Subway.
All in all, he's on good form, as compelling as he is entertaining. And, in short order, he touches on subjects as diverse as the demise of science fiction as a genre (our own imagined futures are now more mind-blowing, he suggests) and the cultivation of marrows (a feature on his partner's Connecticut vegetable patch, "From Debris Pile to Edible Garden in Four Months", is currently on Gardenista.com). And he also shares an anecdote about the first time we profiled him back in 1994, when he launched one of the world's first digital media agencies, CIA Interaction.
Which is, in itself, a rather fascinating fact. There can't be many people who've had direct business contact with the digital economy over its entire history - 1994, after all, was the year in which the first banner ad appeared on a website.
So, what's the secret to his longevity? Maybe, he says, it's something to do with the fact that he hasn't crashed and burned; neither has he made the "hatful of money" that constitutes the other (albeit rarer) exit strategy pursued by his contemporaries.
And that, he jokes, might be down to his limited expectations. "I'm not in the market for a yacht," he concludes, "and I don't need the hassle of remembering the tail number on my private jet."
THE LOWDOWN
Age: According to my mother, a difficult age - still
Lives: 06796 and 11201. Data is everything
Family: Dee Salomon (girlfriend), Theo McCarthy (son of girlfriend), Alfie Norman (schnauzer), mum, sister, niece, nephew and Zack Sampson (great nephew)
Interests: Squash (and other veg)
Last book read: The Art Of Fielding by Chad Harbach
Must-have music: The Easter Hymn from Cavalleria Rusticana
Desert-island luxury: Gerry Moira
Motto: Hope, one day, may triumph over expectation (I follow Spurs and the Mets)