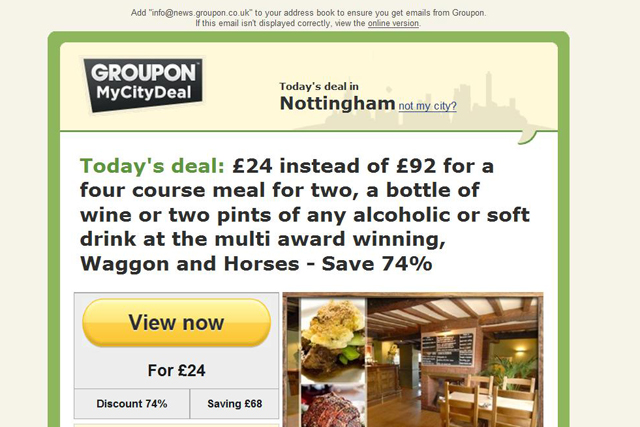 The ad on the Groupon MyCityDeal site offered customers a four-course meal for two with a bottle of wine, or two pints of any alcoholic or soft drink, at the Wagon and Horses restaurant for £24, rather than £92.
Groupon claimed this was a 74% discount, however, one customer complained the number was exaggerated.
In its defence, Groupon said the calculation of the offer price was made on the basis of the most expensive items on the menu at the time it signed the deal with the restaurant.
The ad's small print, which had been incorporated following a similar ASA adjudication last month, said the discount is based on "highest price".
Groupon was unable to provide copies of the restaurant's menu because it was presented on a chalkboard and varied daily.
It said it had no intention of misleading its customers, because if an offer was poorly described on its site it detrimentally affected its relationship with customers and business partners.
Although the ASA recognised Groupon had included the small print in its deal ads, it believed the ad implied customers would always save 74% on a four-course meal and not all customers would chose the most expensive items on the menu.
It said the ad should have used the phrase "up to" to qualify the savings claim and therefore has banned the ad in its current form.
In January this year, the ASA banned two Groupon ads for restaurant discounts and an ad for a safari experience, on the basis they misled consumers.
Groupon claimed it would rectify this through extensive staff training and by incorporating quality control safeguards.
Earlier this year, (11 January) Groupon raised nearly $1bn in investment, following on from a rejected a $6bn acquisition offer from Google in December 2010.