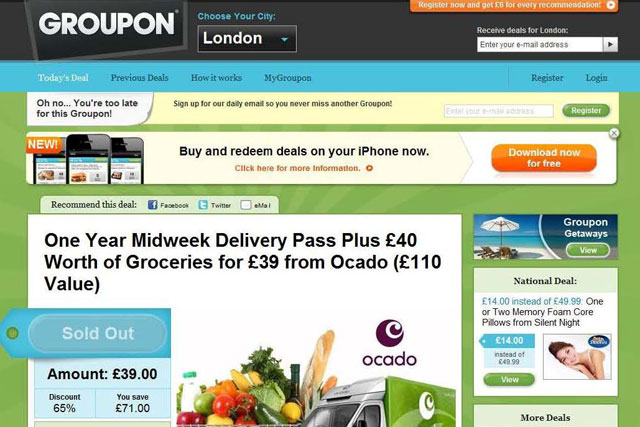 The advertising watchdog, which recently referred Groupon to the Office of Fair trading over "serious concerns" about its trading practices, has upheld complaints against two of its promotions.
One was for an email and website promotion for grocery service Ocado. It offered a midweek delivery pass that could be used to pay for one year's worth of grocery deliveries in one go, to the value of £69.99.
Three complainants did not believe the value of the midweek pass was £69.99. They said Ocado's website priced its six-month midweek pass at £14.99 on 28 July, making an annual pass cost no more than £29.98.
It its defence, Ocado said the one-year midweek pass was a new product and the ad used the word "value", rather than "was", because its price had not been established. It argued it had no legal obligation to state that the price of a six-month pass was directly proportional to the annual pass and Groupon agreed with the response.
The ASA said without any clear evidence that compared the £69.99 pass with an equivalent Ocado product and no demonstration of how the price was calculated, its "value" claim had not been substantiated. The ad was therefore misleading and was banned.
A Groupon breast enhancement ad was also banned. A female complainant challenged whether the ad, which claimed "typical growth between a quarter and two cup sizes within five to eight weeks", was misleading and could be substantiated, because she was told it would take more treatments to achieve the desired result, when she went to the spa where the procedure was being offered.
Groupon claimed the promotion clearly noted that individual results may vary, while the ASA said the use of the word "typical" could be interpreted as meaning the majority of cases and there was not enough evidence to substantiate this.
The ad was banned on the grounds of substantiation, exaggeration and being misleading. It must not appear again in its current form.
Prior to this ruling, the ASA has upheld complaints against Groupon ads on 11 occasions this year and has resolved 37 cases informally.
Follow Sarah Shearman on Twitter: @Shearmans