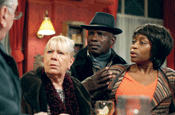 GT will create digital advertising to promote the service and drive BBC iPlayer engagement. The iPlayer has been a runaway success for the BBC since its launch on Christmas Day 2007.

In its first six months of operation, the service had more than 100 million requests to view programmes, with another 10.5 million added in June after the service launched on Virgin Media's electronic programme guide.

The BBC reappointed Agency Republic and added GT to its digital creative agency roster in November 2007.

The agencies were briefed to work across all of the BBC's services.