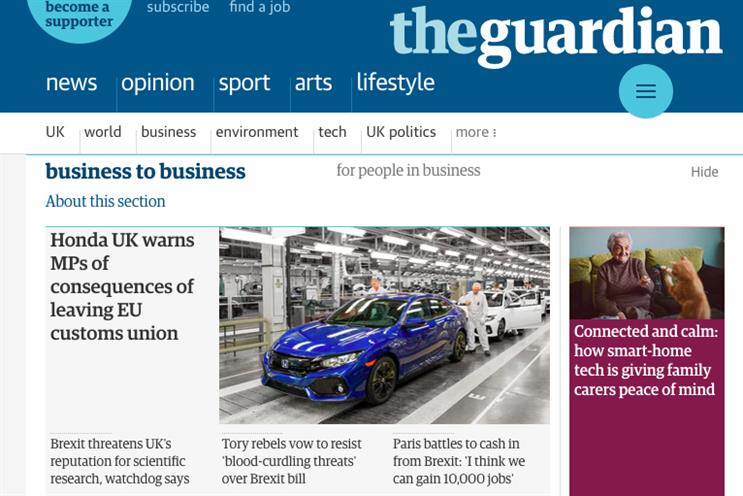 The Guardian's "business to business" section, created by Guardian Labs's executive editor Imogen Fox, will employ an editorial team to commission and create branded content alongside its existing commercial features desk.
The section has been developed and led by launch editor Rupert Steiner, who has previously been chief city correspondent at the Daily Mail, and city editor of The Business.
Working with Steiner are four commissioning editors and other editorial staff, as well as a dedicated sales team and project managers.
Steiner lead editorial team that will bring in news and features from across The Guardian, and keep it updated with new content three or four times a day. This will run alongside pieces funded by advertisers that aim to drive "conversation" among the business community – ranging from articles, to videos, to podcasts.
Fox, the newspaper's former head of fashion who joined Guardian Labs last year, told Campaign the branded content would appear online and potentially as a dedicated print supplement, with all branded content pieces clearly labelled as such "because we're very transparent".
She added: "We offer engaged readership – people are spending longer from content than every before – it means that the brand has longer to get its message across. I've spoken before about repositioning Labs from an agency model. Drawing on the features desk, that raised quality of journalism we're producing."
The section's founding clients will join Vodafone, Kia Motors UK, Fleet and Aldermore which will also have launch campaigns.
Steiner explained that there are three key areas that business readers want to know about: policy issues; trends; and funding.
"For example, the Post Office is looking at communicating services for small and medium size business, while Facebook has a campaign about connected growth; pieces which explain how social media can help drive that business," Stein explained. "Henkel, which is like the German Unilever, is keen to talk about innovative sustainability, while Vodafone has its 'Business made simple' campaign. So it's quite a diverse and different group of clients."
The newspaper's latest annual financial accounts showed a a £44.7m net loss, after headcount was reduced by 300 during the 2016/17 financial year. Guardian Media Group chief executive David Pemsel announced in January 2016 the publisher's three-year plan to cut costs by 20% and break even.